TRS, 'fork-tongued' KCR are 'betrayers of Telangana': BJP
The BJP said it considered TRS & KCR repeated praise of the Nizam as 'a great ruler' anti-national
The BJP demanded that the Chief Minister and his government officially celebrate September 17 as Telangana Liberation Day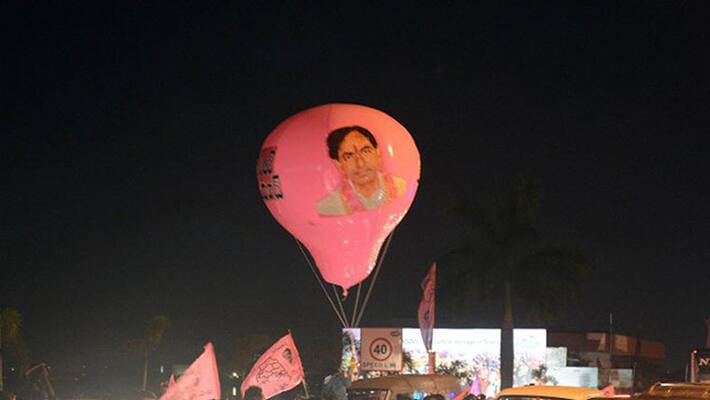 BJP today hit back at TRS for charging it with pursuing "divisive politics" in reference to its demand that Telangana government officially celebrate September 17 as 'Hyderabad Liberation Day', and dubbed the ruling party and CM K Chandrasekhar Rao as "betrayers" of the state's history and heritage.
    
"September 17th, 1948 was the day Indian Government forcibly executed accession of the erstwhile Hyderabad State ruled by Nizam, an oppressive ruler, into the Indian Union. It's a piece of history TRS cannot twist or undermine, no matter how much they try," BJP's official spokesperson for Telangana, Krishna Saagar Rao said.
    
He said during the Telangana movement for separate statehood, the "very same party" and its leader (Chandrasekhar Rao) made the same demand BJP is making today, in "very harsh words" to the then ruling government of united Andhra Pradesh, to celebrate September 17 as "Telangana Liberation Day" (also referred as 'Hyderabad Liberation Day').
    
"However, after coming to power and becoming CM, KCR has developed a forked tongue and is indulging in brazen doublespeak. Everyone in the state knows that TRS and CM KCR's u-turn on this issue is for vote bank politics and his opportunistic political collusion with AIMIM," Rao alleged.
    
"BJP considers TRS & KCR as betrayers of Telangana history and heritage, and also considers that their repeated praise of Nizam as 'a great ruler' anti-national in its spirit. It's unbecoming of an elected Chief Minister to praise a cruel foreign ruler who have oppressed and caused decades of pain and agony to the people of this region," he said.
    
"It's quite shameful and dangerous at the same time that TRS and its leader can swoop to this low for petty political expediency, that they can twist the history of Telangana and India," Rao said.
    
Demanding that the Chief Minister and his government officially celebrate September 17 as Telangana Liberation Day, the party said: "We will not tolerate the insult to the self-respect of people of Telangana and all the martyrs who sacrificed their lives during the fight against Nizam rule."
    
TRS Lok Sabha member Kalvakuntla Kavitha recently rejected the BJP demand and accused it of trying to indulge in "divisive politics".
    
"Moderate Telangana people do not believe in the Liberation day. We believe in a day where Telangana state was merged into the Indian union," 
Kavitha, the daughter of the Chief Minister, had said. "...they (BJP) always call it a liberation day because it (Telangana) has been out of Muslim rule. We will not accept that. We always said our Nizam was certainly very good in a lot of aspects and one or two things go wrong in everybody's rule," she had said. 
Last Updated Mar 31, 2018, 6:38 PM IST