Eminent Malayalam cartoonist Toms is no more
 Eminent cartoonist VT Thomas, alias Toms who created the famous cartoon characters 'Boban and Molly,'  passed away at a private hospital in Kottayam Wednesday night. He was 86.
He was undergoing treatment following old-age ailments and breathed his last at the hospital at around 10.45 pm on Wednesday. 
Toms was a towering presence among cartoonists with his hilarious social and political criticisms. His pocket cartoons as wells and Bobanum Molliyum series dominated the genre in Malayalam for decades. His characters and style were imitated by many but they remained a shadow of the original.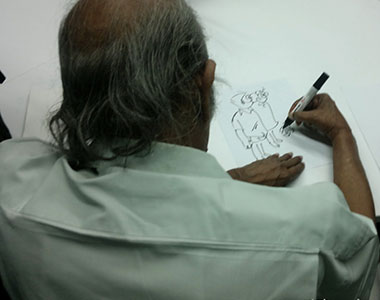 Born in Veliyanad near Changanassery in 1929 Toms went to serve the British Army at a young age. After returning from service, he turned into cartooning, a vocation that was very close to his heart.  
Toms picked up his characters from his surroundings and all of them spoke a particular slang special to the Central Travancore. 
At the age of 30, Toms created two bubbly cartoon kids- Boban and Molly. He modeled them children from his neighbourhood and they turned out to be household names in Kerala and there was no looking back for the struggling cartoonist. 
 
Toms is survived by wife Thresia Kutty and six children - Boban, Bose, Molly, Rani, Peter and Princy.
Last Updated Mar 31, 2018, 6:55 PM IST