Toll shock awaiting the heart of Bengaluru city?
The BDA is planning to make the controversial steel bridge a toll road
The bridge is being loudly opposed by citizens over its many issues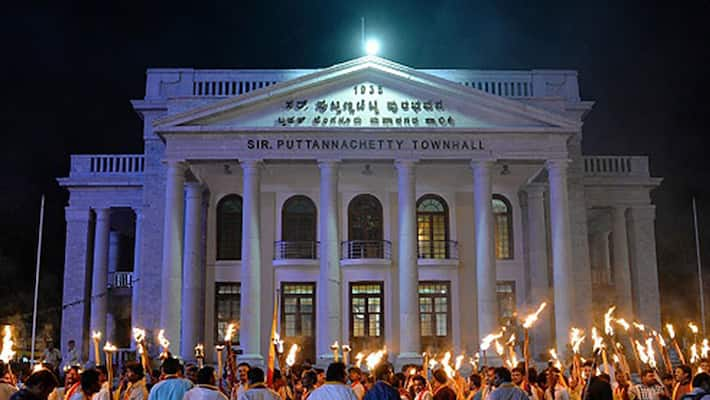 The move is being contemplated by the Bangalore Development Authority (BDA), once its ambitious steel bridge project is completed. The project, which is being loudly opposed by many city-based groups, is likely to face ever more protests in the view of above move being mulled by BDA authorities.
Once the toll system comes into force, people will be required to shell out money for commuting on this bridge from Basaveshwara Circle (Chalukya Hotel Circle) to Hebbal. The concept of a paying toll inside the city may not have many takers; it is predicted.
the steel bridge is facing a host of issues and oppositions. The proposed construction would mean the axing of as many as 812 big and small trees on the planned route. Authorities are planning to install 'artificial trees and plants' on this stretch to make it attractive - a scheme that has been widely derided.
Environment experts are of the opinion that pruning of trees would lead to an increase in temperature and also a dramatic increase in carbon dioxide volume.
Cost Escalated Despite Decrease in Steel Price!
While the Steel Bridge was conceptualised and blueprint was being prepared, steel price was ₹45,000 for one ton of steel. Though steel price has scaled down steeply and the prevalent price ₹30,000 a ton now, the authorities have added amount of ₹441 crore to the construction cost, citing 'taxes' as overheads. This had given rise to many speculations.
Traffic congestion
Another theory doing the rounds is that while traffic congestion is a common scenario in the present road, once this six-path steel bridge becomes operational, traffic flow will only increase and create more suffocating congestion, as additional vehicular traffic adds up to existing ones.
Danger of sound pollution
As dense vehicular traffic moves on the bridge, the noise level is likely to go up, much to the irritation of residents and shop-keepers nearby the steel bridge. Areas like Sadhashivnagar, Sanjaynagar, CBI Junction, and Hebbal are scared of losing their 'silent area' tag once the project becomes operational.   
Last Updated Mar 31, 2018, 6:31 PM IST