A jungle book story of love and revenge: Tiger in mourning kills his mate's poacher
This story of a male tiger is not less than a revenge thriller.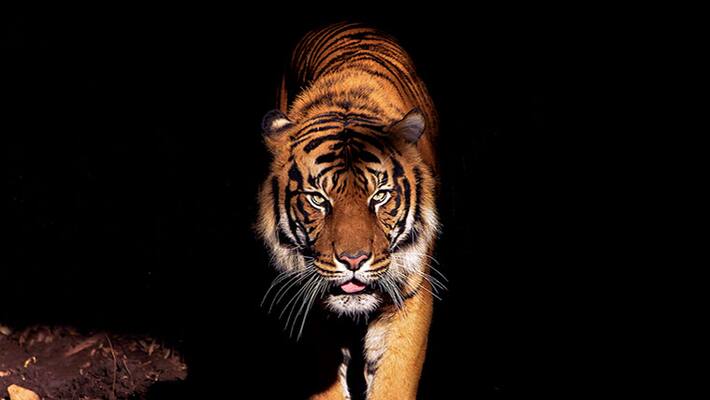 A male tiger that lost its beloved to hunting is giving sleepless nights to people of  Seethathodu in Pathanamthitta for over two months. The story of the bereaving animal has all ingredients that go into a revenge thriller. 
The wild cat lost its mate and cub to human savagery and waited for its chance and started taking revenge on those who shot his tigress down at Seethathodu.  The human version of the story unfolded after the Forest officials arrested Thampi, who was part of a gang brewing country liquor in forest dens. Thampi told the officials that his gang had spotted the tigress when they went inside the forest to brew alcohol. His friend gangmate shot the tigress, peeled its skin and shared the flesh. 
After three days, the men again went to the forest but were welcomed by the ferocious male tiger desperately searching for his female. 
It immediately pounced on Baby, the poacher who had shot the tigress and dragged him to the forest but left him half dead. Baby was immediately taken to hospital but succumbed to injuries later. 
Though Baby died of animal attack in early March, the real story behind the incident came to light only after Thampy was taken into custody by the Forest officials. The forest officials have seized the gun used for shooting the tiger and its skin. 
Thambi said that the tiger also had an orphaned cub along with it which could have died due to starvation after its mother's demise. It must have been difficult for the male tiger to rear the cub alone. 
Though the tiger took revenge on Baby,  it continues to take revenge on humans in the area. It continues to take rounds in human areas and tiger attacks have become a routine. Surveillance cameras installed in the area have confirmed the presence of the tiger in the area. Though the Forest Department installed traps to catch the dangerous animal, it remains at large. 
Last Updated Mar 31, 2018, 6:40 PM IST