'AWBI experts prevented from examining tuskers at Thrissur Pooram'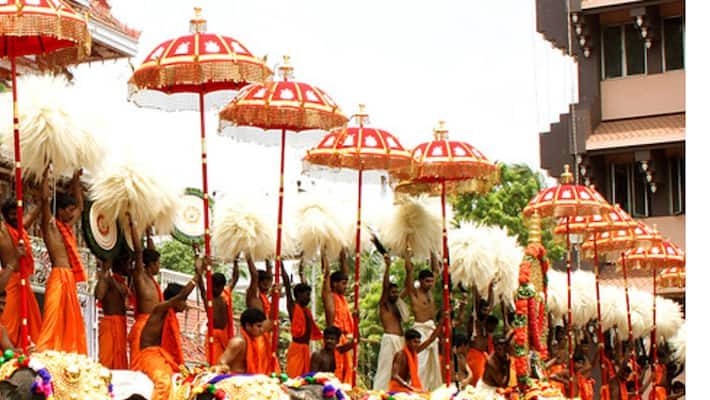 Animal rights activists have alleged that the experts from Animal Welfare Board of India (AWBI) were not allowed to examine the elephants to ensure their well-being during Thrissur Pooram festival concluded on Monday. 
 Heritage Animal Task Force secretary V K Venkitachalam said a team of six veterinarians was prevented by the officials of Animal Husbandry and Forest department officials along with Thrissur District Collector and the police. He has sent a letter to the director of Project Elephant, under the Union Government, citing the issues seeking action against the officials for misuse of power.
During festivals in Kerala, elephants are paraded for nearly two days, often without shade or enough food and water. The condition causes animals to collapse owing to heat stroke, dehydration, and exhaustion, the complaint said. Recently an elephant brought for a parade at a temple had ran amok, causing panic and injuring several persons.
As many as 79 elephants were paraded in the blistering hot weather as part of Thrissur Pooram festival, that began on Sunday. They were made to stand for 36 hours at a stretch while the bustling crowd, loud music and fireworks created extreme stress. 
Despite strict guidelines issued by the government and court rulings regarding the use of elephants in festivals, several reports have surfaced that the organisers are not adhering to such rules. The denial of access to AWBI appointed veterinarians is in direct contradiction to the order of Supreme Court that only those elephants inspected and certified by AWBI veterinarians shall be paraded at festivals, the activists pointed out.
Parading elephants that are not approved by the doctors puts both the animals and festival goers at risk. PETA India has also come out against the alleged act of not permitting AWBI experts to examine the health status of elephants.
Last Updated Mar 31, 2018, 6:33 PM IST