Three CPM workers hacked in the wee hours of New Year Day
Political violence in Kannur gained national attention after BJP and RSS organised protest marches in Delhi
Three CPM activists were hacked in the wee hours of New Year Day
A scuffle over political writings in public places led to the clash between two groups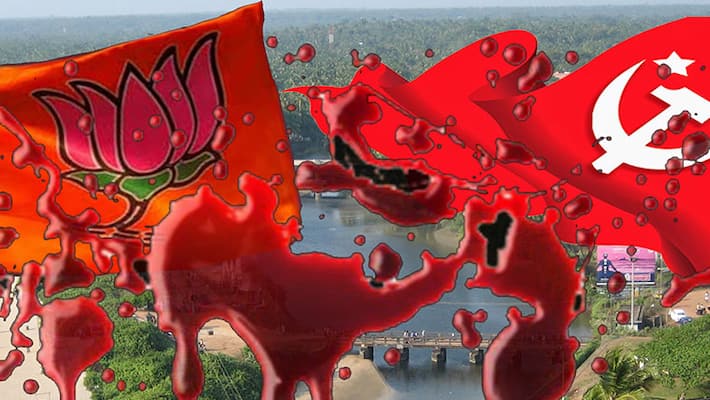 In a fresh escalation of political violence in northern Kerala, three CPM workers were hacked in the wee hours of New Year Day. The scuffle over political writings in public places led to the clash between two groups resulting in the incident. 
 
The victims are identified as Athul, Ashwant and Ranjit. They were at first admitted to Thalassery Cooperative Hospital and was later shifted to Government Medical College, Kozhikode. 
 
CPM alleged that RSS activists were behind the attack. Police registered a case and had launched a probe into the incident. 
 
The politically sensitive Kannur district has been tense since Left Democratic Front came to power in may this year. Since then as many as seven persons became victims of political killings. 
 
BJP tool the campaign against political violence in Kannur to the national level. Following this CPM also organised a counter-campaign at national capital stating that RSS is portraying the former as a murderous outfit. Both the parties organised protest march to CPM headquarters in New Delhi.
 
Read more: Kannur murders: CPM to take campaign against BJP to New Delhi
 
BJP alleges that state leadership of CPM is behind the attacks while the latter blames the national leadership of the national party. CPM state secretary Kodiyeri Balakrishnan said the RSS and BJP are trying to wipeout Communist Party from the state. 
 
Despite many appeals for peace, the CPM and RSS leadership have not been able to put an end to this menace. 

Also read: Kannur is a strange treacherous place
 
Last Updated Mar 31, 2018, 6:58 PM IST