This is the condition of Bengaluru's Ulsoor Lake, officials unmoved!
The nets and the bund in Ulsoor Lake have not been maintained at all.
The officials had promised to maintain the lake after the dead fishes-surfacing incident.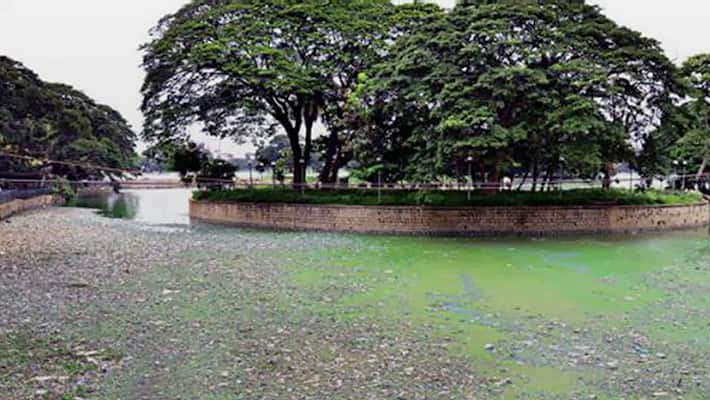 Bengaluru water bodies are not in great conditions and this is a spot of bother for all the dwellers in the city. There was a time when Bengaluru was one of the best Indian cities to live in because of its weather, greenery and minimal level of pollution. Now it has reached a point from where it will be difficult for political leaders, the corporation officials and the pollution control board to retrieve the condition the city was in.
Ulsoor Lake has once again entered the headlines. Untreated sewage water and garbage have found their way back into the lake, which is almost in the heart of the city.
There are nets which filters the storm-water drain. Then it goes through a granite bund before it enters the lake. During the rains the drain overflowed as noticed by the residents living around the lake. This proves that the nets and the bund have not been maintained at all.
Also Read: Bengaluru becoming unlivable, why can't BBMP do anything?​
Few months ago, when Ulsoor Lake was in news because of thousands of dead fishes surfaced. It was then when the corporation officials, political leaders and the pollution control board were on high alert. They even promised to fix the condition of the water body but now it seems that the effort has been half-heartedly put.   
Bellandur Lake was also in the news recently for its filthy and stinking state. The local residents know it better than anybody else. The froth from the lake even came on to the lake.
If the officials do not look into this issue as soon as possible, then the future of Bengaluru water bodies are more or less doomed.
Last Updated Mar 31, 2018, 6:47 PM IST