Things that 'Karnataka CM' said on Twitter will leave you shocked!!
Cyber crime police are investigating the issue.
The fake twitter account was created in December.
A miscreant has opened a fake twitter account in the name of Karnataka Chief Minister Siddaramaiah and has tweeted disparaging stuff from it. CM's office has filed a complaint in Cyber Crime Police on Wednesday.
Siddaramaiah already has an official twitter account '@CMofKarnataka' and he is sharing government schemes, developmental programs and his opinions from that account.
The miscreant has removed the letter 'f' and has opened the fake account with the handle – '@CMoKarnataka'. He has used the same profile picture, the one that is already there in the verified account.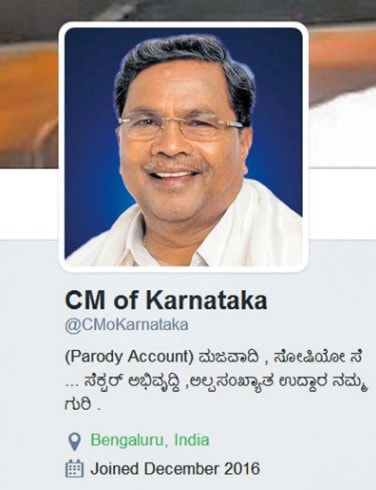 Recently, Siddaramaiah participated in the inaugural session of the 9th national conference of Indian Association of Lawyers along with the Vice President Hamid Ansari. The miscreant posted a photo of CM and Vice President sitting together and has commented saying, "Ansari is watching my watch. He doesn't know that nowadays I have stopped wearing watches."
He has also tweeted derogatory statements on the issues like Ettinahole Project, Steel flyover project and ACB.
The cyber crime department stated that the fake account was created in the month of December and they are looking for the owner of the account with the help of the IP address.
Last Updated Mar 31, 2018, 6:54 PM IST