In Kerala textbook, father is 'mother's husband'
Poor language, typo errors and strange lessons make pre-primary textbooks used in many schools in Kerala.
The textbooks are meant for pre-primary students of schools under Thiruvananthapuram Corporation.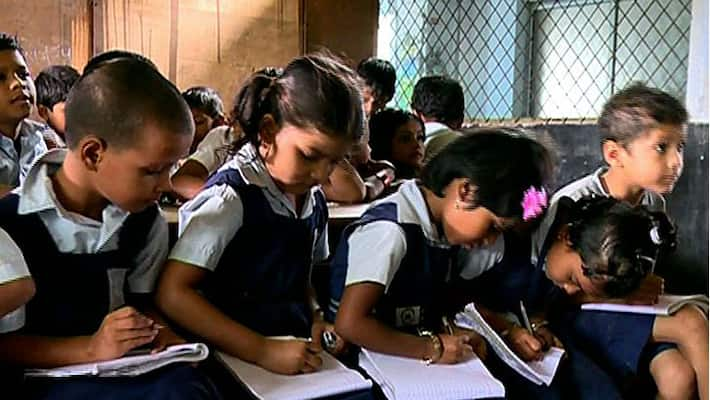 "Who's is my father?" 
"My mother's husband." 
"Who is my mother?"
"My father's wife."
This definition of mother and father appeared in a textbook for pre-primary students introduced in a school run by Thiruvananthapuram City Corporation. A teacher of the school felt it bizarre and complained about the text book. But the response from the corporation authorities was even strange. They allegedly harassed her and gave scant regard to her complaint.
 P P Jisha, a teacher of the school refused to teach the portion says she was criticised and mentally harassed by the Corporation Education Standing Committee for pointing out the lack of logic in the lesson on family members. 
"I felt ashamed of myself that I am forced to teach students such poorly written lessons. Realising the truth, I felt it was my duty to point out these mistakes", said Jisha. Besides, this the textbooks are rife with typo errors, she added. 
A Shajarkhan, Save Education Society state secretary, said that it was shocking that such textbooks are being taught in our pre-primary classes. It is very objectionable that such 'distorted lessons' are used in our schools. It is too early for the pre-primary students to understand the complexities of these lessons.
Many schools in the state depend on private publishers for textbooks, and there is no mechanism in place to check the standard of the books used in private schools. What makes the situation even worse is that the schools run by city corporations are no better, as is evident in this case. 
Often the textbooks of private publishers are prescribed without proper guidelines and without consulting Educational Department or the State Council Educational Research and Training (SCERT)  leading to the poor quality of education in the schools.
 
According to Annual Status of Education Report (ASER) 2015, the status of education in India has declined to an alarming low.  As per the report, enrollment in elementary education is almost 100%. But when it comes to education outcome, abilities in reading, writing and other comprehensive skills of children among children between the ages of six and 14 have deteriorated.   

 This is mainly due to the 'Rote learning trend' based on which the students just have to memorise and repeat the lessons without understanding the concept. Most of the time teachers also prefer the method as this is the only way they can cover the entire syllabus before the examination.
To improve the academic quality, the report says it is essential to have a well-designed curriculum and assessment strategies to improve teaching and learning. 
Last Updated Mar 31, 2018, 6:53 PM IST