Telangana: Army deployed to evacuate flood-hit residents
Telangana government seeks army help to evacuate stranded residents from low-lying areas.
Nizampet, Kukatpally, Chintal , Alwal, Qutbullapur, Alwyn Colony, Patigadda, Begumpet and Malkajgiri are still submerged.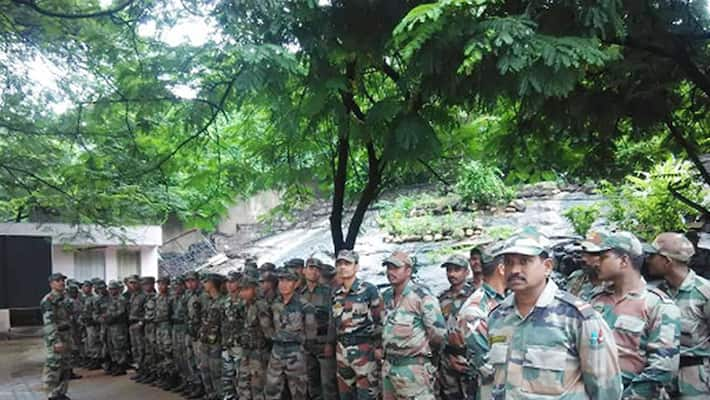 Army swung into action at the request of Telangana government with many colonies in the low-lying areas of Hyderabad city, which has been battered by torrential rains for the past one week,  continue to live in submerged conditions.  
Thousands of residents today vacated their flats in areas like Bhandari Nagar as the water has not receded even though there is some let-up in rains. Life remained difficult  for many as they were cut off  from the main roads.
Already teams of National Disaster Response Force (NDRF) have begun relief operations in these areas.
According to Municipal minister KT Ramarao, who is personally involved in the relief operations, state government had interacted with army officials. He said army officials joined him at the Command and Control Center of GHMC Saturday. Col. Vashisht and his team joined him at the control room, he tweeted.
 Army officials are said to have visited many areas in Nizampet, Kukatpally, Chintal, Alwal, Qutbullapur, Alwyn Colony, Patigadda, Begumpet and Malkajgiri, which are still remaining in knee-deep waters.
A team headed by Major Kuldeep visited Mothuku Kunta Lake in Alwal and assessed the flood situation  in order to launch relief operations.
 
Another team led by Major Janwal has been deputed to Nizampet area, Major Bhist's men  have been dispatched to  Hakimpet area. Major Ashutosh has been given the responsibility of carrying out relief operations in areas that fall under Begumpet and Patigadda.
 
"Army and NDRF personnel have swung into action with boats, food packets and medical kits to carry out necessary rescue and relief operations in areas, which are cut off from the city because of inundation. Some of the teams have already launched rescue operations wherever necessary,"  Ramarao said and thanked the Army officials for their active role.
 
Besides team of Greater Hyderabad Municipal Corporation (GHMC), various political parties and NGOs are also actively involved in the relief operations.  Even RSS also has deployed its volunteers in some parts of the city.
On other side, even though there were no rains in many parts of city, Met department office forecast  moderate to heavy rains  in the next 48 hours to 72 hours.
Last Updated Mar 30, 2022, 9:45 PM IST