Telangana Congress workers fill potholes in 'novel protest'
The ongoing torrential rains have exposed the poor condition of the roads in Hyderabad
Strangely, it was the Congress which ruled GHMC during the past two terms in the company of MIM before TRS wrested it recently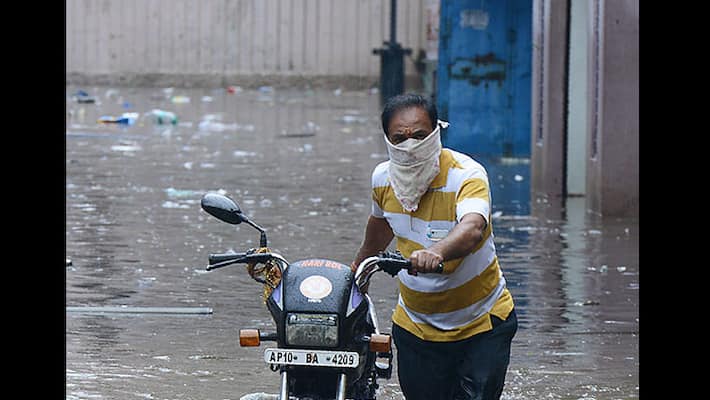 Congress workers in Hyderabad filled thousands of potholes with the pictures of Municipal Administration & Urban Development Minister K. Tarakarama Rao in a 'novel protest' on Saturday. The protest was held to condemn poor conditions of the roads in the city.
"We know that the potholes cannot be filled with these pictures alone. But whenever a road user passes through these potholes, he will know who is responsible for this mess,"  Abdullah Sohail told reporters.
He pointed out that TRS Government has dumped the city after winning Greater Hyderabad Congress Committee (GHMC) elections, and "we want the people to dump KCR and KTR into these potholes."
The ongoing torrential rains have exposed the poor condition of the roads in Hyderabad. All the roads, including the new ones laid before the GHMC elections this February, have also been washed away in the flood leaving millions of potholes on the city's roads.
Strangely, it was the Congress which ruled GHMC  during the past two terms in the company of MIM before TRS wrested it recently.
Abdullah Sohail said that the TRS Government has failed to come up with an effective Monsoon Action Plan although the weather department predicted above normal rainfall this season.
He said that the GHMC authorities should have made arrangements to handle situations like bad roads, water logging, inundation of low-lying areas, the spread of epidemics, etc.
"Being the Municipal Administration Minister, KTR should tender an apology for his failure and resign from his post owing moral responsibility," he demanded.
GHMC Commissioner Dr B. Janardhan Reddy and other officials responsible for this condition should also be sacked," he added.
The Congress leader said that thousands of potholes on city roads pose a major threat to the lives of bike riders, Citing an incident, he said one IT employee was killed in Madhapur after his bike slipped due to a pothole on the road.
He demanded the police department to register cases under 'Section 304-A, for Death Due to Negligence' against GHMC officials in accident cases which occur due to bad roads.
Abdullah Sohail said that the Congress workers would continue their protest on the daily basis until the authorities repair all the roads in the city.
He said that the Congress party was also preparing an area-wise list of bad roads which would be submitted to the government for immediate action.
Last Updated Mar 31, 2018, 6:31 PM IST