Telangana CM KCR gets bulletproof 9-acre home amid cash crunch
KCR moves into 9-acre home at 5.22am on Thursday
The residence, office bathrooms and bedrooms are bullet proof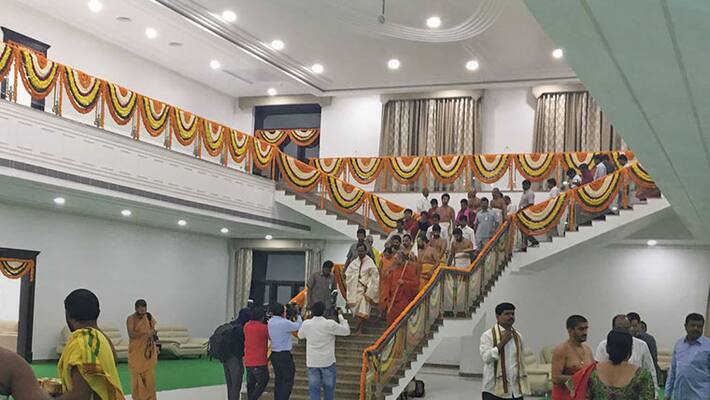 Telangana is reportedly reeling under a cash problem, with the state government even saying they did not have enough cash for paying the government employees salary. In a stark contrast to what is being said by Telangana CM K Chandrasekhar Rao is his actions.
Interestingly #Telangana CM KCR insisted that the seer Chinna Jeeyar sit on the CM's chair first, took his blessings and then sat himself pic.twitter.com/Fne3bqJkp7

— T S Sudhir (@Iamtssudhir) 24 November 2016
On Thursday morning, the Telangana CM held the Grihapravesham to his palatial –wait for it- 9acre mansion in Begumpet, the heart of Hyderabad. The puja was presided by religious guru Tridandi Srimannarayana Chinna Jeeyar Swamy.
With an original building cost of ₹35 crore, the construction and other attachments saw the final bill exceed it by ₹20 crores. Mumbai-based realty honchos Shapoorji Pallonji are making this huge home. The CM and his wife Shobha will use this building as the new CM residence, named Pragati Bhavan. It comes equipped with an office and conference hall, called Janahita, among other facilities. Interestingly, the parking space is also quite elaborate with it being built to hold over 300 cars. A government statement had earlier said the new residence had been planned as the Chief Ministers camp office and residence did not have adequate facilities for parking and holding large meetings.
KCR is a staunch believer of Vaastu and Feng-Shui. An adviser to the CM had mentioned how the existing camp office, constructed during the regime of late YS Rajasekhar Reddy in 2005, at cost of ₹10 crore in sprawling 1.5 acres of land was not lucky for him as it went against his Vaastu beliefs.
Among other interesting facts about this home is that it comes with bulletproof toilets and bathrooms both for the residence and the offices. Apparently, there is a threat to the CM's life and this was constructed keeping in mind the security concerns. Besides the bathroom, two bedrooms – the Chief Minister's and that of his son, Telangana Minister KTR's too have been fitted with bulletproof glass. Around 50 security personnel will be monitoring the camp office-cum-residence around the clock.
In fact, a new government secretariat or office complex is to be built as well. Its construction is currently on hold. KCR's family owns another house in the city, one in their hometown and also a farmhouse nearly 60km from Hyderabad.
We are sure, this lavish expression of wealth might not go down well with the new state where as now reports say that the Telangana government may lose about ₹3,000 crore of revenue this financial year due to demonetisation of high currency notes.
(Lead image source: TS Sudhir)
Last Updated Mar 31, 2018, 6:47 PM IST