Teen nature lover turns wasteland into organic farm
A 15-year-old has turned his 4,000 land into an organic farm.
From the age of 11, Arya Pudota, has been working on building a flourishing garden.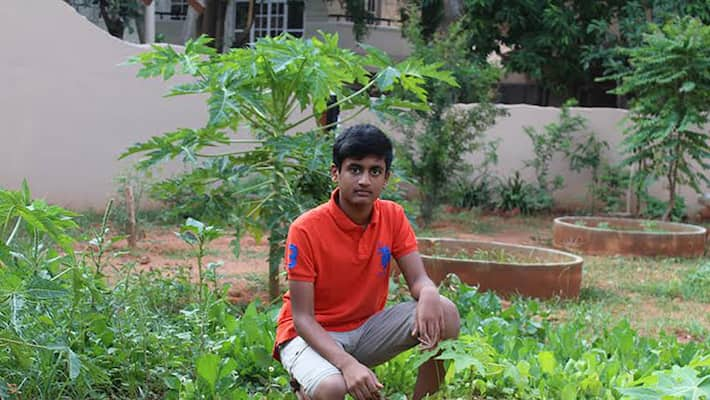 At an age when most teens spend their quality time watching television, playing video games or on the phone, there is Arya Pudota a 15-year-old who has converted a 4,000 square feet area wasteland into an organic garden and has been promoting the same in the surroundings.
Arya told Asianet Newsable that he has been working on his organic farm since the age of 11. Initially, when his parents bought a 4,000 square feet land besides their house in Kasturinagar, the family thought of constructing a building. But later his mother wanted to have a small garden. Young Arya, who used to help his mother, soon fell in love with farming.
His garden has more than 20 varieties of plants in the organic garden. It includes greens like palak, fenugreek leaves, spinach, gongura, coriander, vegetables like tomato, brinjal, raddish, capsicum, onion, chilly, bitter gourd, snake gourd, trees of guava, mango, lemon, mousambi, jack fruit, ashoka , pomegranate. 
The 15-year-old, who is a student of National Public School, initially invested about ₹10,000 to create the organic farm. Every year, he spends ₹ 5,000 for buying seeds and to maintain the garden. He also has setup his own vermicompost unit to boost the fertility of the soil and increase the yield of crops

Between his school, home and other activities, Arya makes it a point to spend one hour daily just to take care of his farm. "An Organic farm needs daily attention and care. That ensures that the soil does not lose its nutrients.

In his efforts to spread more about awareness on farming and promoting "green" habits, he also uploads vidoes on YouTube with helpful tips and information. For his contributions, he also has been recognised by the United States Green Building Council in 2015. 

Arya also has distributed about 1,000 plants at Cubbon Park to raise the awareness on organic farming.
Last Updated Mar 31, 2018, 6:37 PM IST