Tanur tense as CPM, Muslim League blame each other for violence, arson
The local leadership of the Muslim League and the CPM later blamed the police for escalating the violence.
'Muslim League is abetting violence to avenge political vendetta on CPM'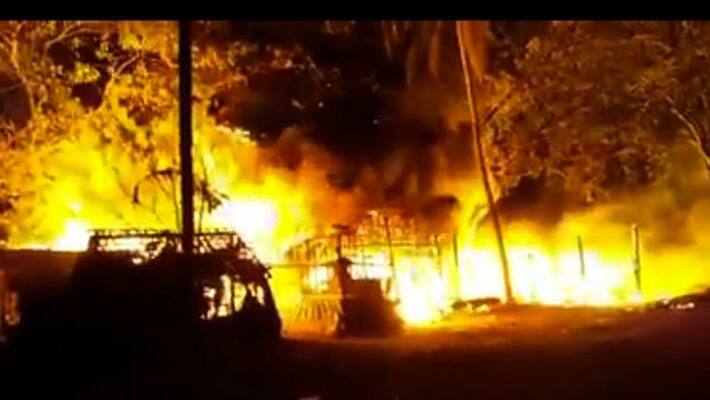 "It is politics of intolerance on display," said Chief Minister Pinarayi Vijayan, blaming the Indian Union Muslim League and the Congress-led UDF for the violence in Tanur in which dozens of houses, fishing boats and vehicles were gutted and many injured in the wee hours of Monday.
The police remained moot spectators when the CPM workers went on rampage   in Tanur. And when the CPM violence subsided, the police unleashed violence in the area, creating panic and horror in the locality, said N Shamsudeen, Muslim League MLA.

The local leadership of the Muslim League and the CPM later blamed the police for escalating the violence.
 
Muslim League activists were selectively attacking CPM workers. Even the girls were insulted in broad day light, Tanur  MLA V Abdurahman retorted. He also alleged that the Muslim League was creating a riot-like situation in Tanur with foreign aid.
The statement of the legislator raised an uproar in the State Assembly and the portion of 'foreign-aided violence' was expunged later.
Tanur Violence:

The violence started at 10 pm on Sunday continued till early morning next.
police fired in the air to disperse the agitated crowd, but failed to contain violence.
More than 30 houses were destroyed and set ablaze by miscreants.
Many injured including 13 police officers.
Fishing boats, nets and outboard engines were set on fire.
250 pigeons reared for pigeon- racing were burnt to death.
Police have taken 30 persons into custody in connection with the mob violence
Behind the war of words and the over-enthusiasm to pass the blame on the other, it remains a horrifying reality that Tanur in Malappuram has become a politically vulnerable spot where a tiny spark could ignite another round of violence that could be even worse.
Ever since the victory of LDF in Tanur in the last Assembly elections, the Muslim League was engaging in sporadic violence targeting the CPM workers there, said Chief Minister Pinarayi Vijayan trying to give a political reason for violence. Now the situation is under control, he stated assuring that violence would be suppressed at any cost. He also justified the police action.
Leaving aside the references to the perpetrators of violence and the political reasons behind it, one could easily read into what it means to Kerala in general and for the people of Malappuram in particular. Tanur portends a bigger danger, especially when the leadership of both parties continue to blame each other than standing together to denounce violence.
Last Updated Mar 31, 2018, 6:40 PM IST