Centre, Kerala bicker over evacuation expenses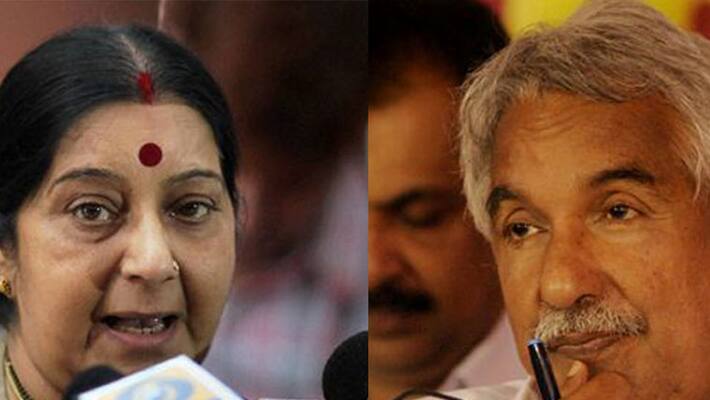 The political fight erupted a day after Prime Minister Narendra Modi said his government has evacuated the families from Libya and that the Centre was committed to work for welfare of Indians living abroad. Kerala goes to polls on May 16. 
Modi is already under mounting attack from the Opposition parties for his controversial comment in an election rally comparing Kerala and Somalia while talking about the infant mortality rate among tribals in the state. 
Read more: Kerala polls: 202 crorepatis, 311 with criminal records in fray
A total of 29 Indians have been evacuated from Libya out of which 16 are from Kerala and they reached Kochi this morning. 
"Mr.Chandy - We evacuated thousands of Indians from Kerala from Iraq, Libya and Yemen. Who paid for them ? 
"Mr.Chandy - You said 'Kerala paid for 29 Indians evacuated from Libya,'" Swaraj said in a series of tweets. 
The External Affairs Minister, who is recuperating in AIIMS where she was admitted on April 25, blamed Chandy for triggering the debate. 
"Mr.Chandy - You started this debate - as to Who paid ? Not me. We always did this because this is our pious duty towards our citizens," she said in another tweet. 
Earlier, Chandy said the State government is bearing the travel expense of the families, indicating that the Centre had not extended the financial assistance for their travel. 
"Sushma Swaraj paid for the earlier evacuations. This time we are paying for their travel," Chandy said. 
Read more: Forest Department builds cradle for baby elephant
In an election rally, Modi had yesterday said "Our government has saved six families and evacuated 29 people. The Indian government is committed to working for people who go abroad to work, we have always tried to help them. It gives me immense pleasure and happiness to tell you that they are coming back and will be united with their families soon," Modi said.

When asked about the controversy, External Affairs Ministry Spokesperson Vikas Swarup said the Indian Mission there was in constant touch with the authorities and it was because of the embassy's intervention that the Indians got their salaries and were issued exit visas. 
Read more: Election season is also homecoming for non-resident Keralites
"Our embassy has constantly followed up the matter with the hospital as well as with the Ministry of Health of Libya...Our ambassador personally flew down to Tripoli on April 28 and met with the Chief of Protocol on May 2 to resolve the matter. 
"Thanks to the embassy's intervention that their salaries were paid and their exit visas were issued and they were able to safely return to India today," he said. 
The Indian Embassy in Libya has been relocated to Djerba in Tunisia because of escalation in violence in Libya.
Last Updated Mar 31, 2018, 7:06 PM IST