Students booked for scribbling on college walls, sparks uproar in Kerala
The writings referred to recent controversies over fat tax, beef ban, National Anthem and police atrocities in Kerala
The students had scribbled the lines of poets Kureepuzha Sreekumar and Sachithanandan
Students alleged the arrested were being targeted after they left SFI few months ago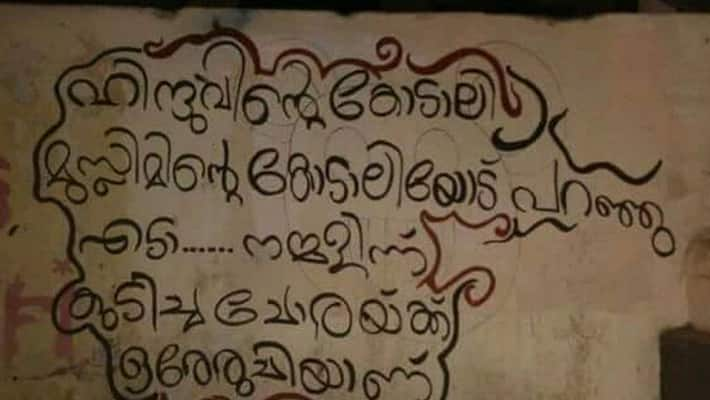 Undaunted by the criticism over its recent excesses, the Kerala police on Tuesday arrested six students for scribbling on the walls of College. The students of Maharaja's College, Kochi, were arrested following a complaint by college principal. The police booked the students under Section 425 for destroying public property. The college authorities also suspended the students from the rolls. 
 
The issue gains prominence under recent allegations against police about the stand taken against persons showing affiliation to left and Maoist ideologies. Reports are that the police took action alleging affiliation to Maoists. It is accused that the contents of the writings provoked college authorities and police to take action. The wall writings referred to recent controversies over fat tax, National Anthem, communalism, beef ban and police atrocities in the state. The students had quoted lines of poets Sachithanandan and Kureepuzha Sreekumar.
 
College authorities said they filed complaint not only against wall writing, but the scribblings were likely to destroy communal harmony. "The students had not only scribbled poetry on the walls. Some of them were likely to spread communal hatred. The arrested were also included in some earlier issues that took place in the college and are accused in a case," Beena, college principal said. 
 
Some students said the arrested had left SFI a few months back and are now being targeted. 
 
Meanwhile, Students Federation of India (SFI) said the students were arrested for spreading communalism in college and not for writing poems on the wall, SFI state secretary Vigin said. 
 
 Youth Congress leader P C Vishnunath said the police action proved the fears aired by former Kerala Chief Minister V S Achuthanandan were real. The Communist veteran had earlier said that the police excesses left an impression that Kerala is lapsing into a fascist rule. 
 
The arrested were shifted to Boston School in Kakkanad, and the court would consider their bail petition on Thursday. 
Last Updated Mar 31, 2018, 7:04 PM IST