State yet to recover from Paravur tragedy; death toll rises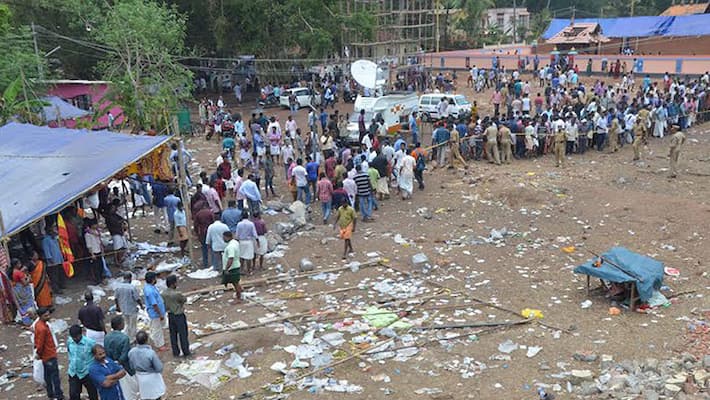 The state is yet to recover from the shock of the fireworks disaster occurred during a temple festival here on Sunday that claimed 108 lives and left more than 300 people injured.
Unconfirmed reports say that the death toll would be as high as 110. As many as 20 dead bodies are yet to be identified. The authorities are making arrangements for DNA test in such cases. Sixty injured remain critical, according to officials. The priority of the government is to provide medical care to the injured and to identify the dead bodies. 
Prime Minister Narendra Modi visited the spot of the accident on Sunday afternoon and offered support to the state government. He also visited District Government Hospital at Kollam and met a few injured persons. He announced a compensation of Rs 2 lakh each for the relatives of the victims. Congress Vice President Rahul Gandhi and BJP President Amit Shah also met the injured at the hospital.  
The state government has announced a compensation of Rs 10 lakh to the dependents of the deceased. The injured will get Rs 50,000 each as an emergency assistance. The medical expenses will be borne by the state. 
The government also declared a judicial commission inquiry into the incident. Retired High Court judge Justice Krishnan Nair will probe the tragedy. Meanwhile, the state Crime Branch took over the case from the local police on Monday. Five fire display workers associated with the festival are in police custody now. The contractor of the fire cracker unit and his son were also injured in the accident.  
The disaster took place at 3.30 am on Sunday during a competitive fireworks display held as part of the temple festival at Puttingal in Paravur here. The district administration had denied permission for the fireworks display, but the temple committee went to go ahead with their plan. 
As the state still mourns, condolence messages are pouring from across the world. Pakistan Prime Minister Nawaz Sharif, Pope Francis and Prince William were among those who condoled the tragedy. 
Last Updated Mar 31, 2018, 6:59 PM IST