Spurned uncle attacks 16-year-old with hammer
A 16-year-old schoolgirl was attacked with a hammer for turning down a proposal.
The attacker was nabbed by a mob, thrashed and handed over to the police.
The man is believed to be her relative, whose proposal she had rejected.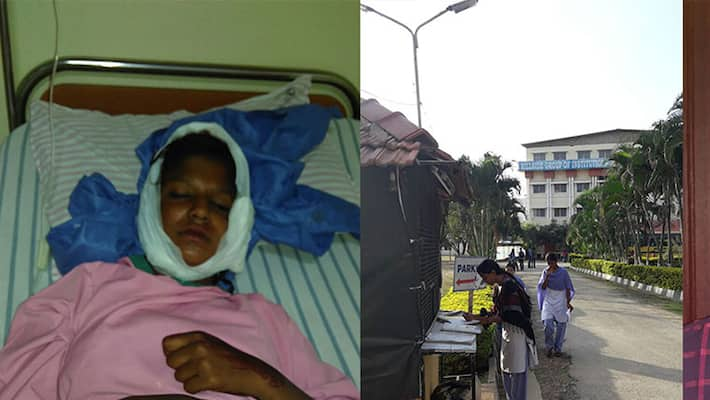 Another shocker from Bengaluru. 16-year-old Bhavani walked out of a Hillside Group of Institution school in Subramanyapura at 3.30pm on November 3. Little did she realise that it was going to be one of the most terrifying evenings of her life so far. 
Outside the school, her 26-year-old uncle, Arun, waited for her, planning a brutal assault under the guise of 'disappointment'. As per following reports, he took out a hammer and attacked her once she walked down a path outside the school. 
The girl's shrieks of horror and pain raised an alarm and mob rushed to her help. They captured Arun, trashed him for his brutal action. and handed him over to the police.

The accused is believed to have approached the girl's family members and even proposed to Bhavani, but they all turned down his offer. While Bhavani was shifted to the nearest hospital, the police registered a case of Protection of Children from Sexual Offences Act (POCSO) and arrested Arun.

According to data from the National Crime Records Bureau, Bengaluru records the maximum number of POCSO cases registered in the country. 273 cases were registered in 2015. While activists believe that the increase in cases is due to greater awareness, what's alarming is the belief among experts that only 25 percent of cases are reported.
In June this year, the capital city of our neighbouring state, Chennai, was witness to a similar case wherein a jilted lover resorted to another such barbaric attack. The victim, Swati, died in broad daylight in one of the busiest spots in the city - Nungambakkam Railway Station. 
In our state, in November last year, a girl around the same age as that of Bhavani, was attacked by three machete-wielding men - one of whom was the man who's proposal she had rejected - in Mandya, around 100 km from Bengaluru. She was brave enough to hold on to the culprit despite her wounds.
The burning question is when will the city become a safe haven for women and children?
 
Last Updated Mar 31, 2018, 7:00 PM IST