IPS officer sat on court order to probe ex-minister's 'illegal assets'
An internal audit revealed that former Vigilance SP R Nishanthini delayed an inquiry ordered against former Excise Minister K Babu.
On 5 February 2016, Vigilance Court ordered secret probe into allegations on Babu.
But the IPS officer did not initiate probe even after a lapse of five months.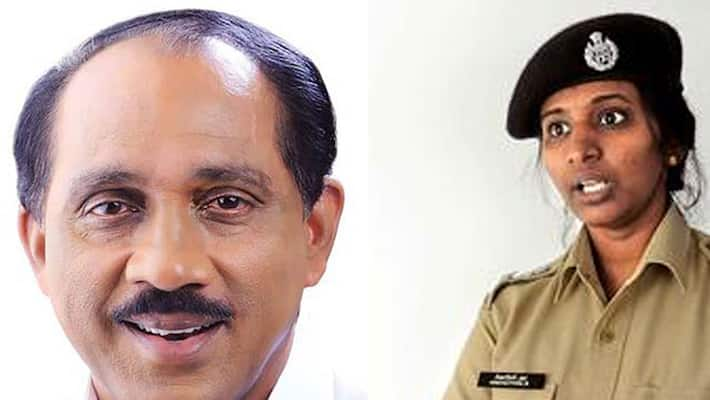 An internal audit by Vigilance and Anti-Corruption Bureau (VACB) has revealed that former Vigilance SP R Nishanthini allegedly sat on a court order early this year to initiate inquiry into complaints that former Kerala Excise Minsiter K Babu amassed wealth disproportionate to his income.
  The SP allegedly shelved an order by Vigilance Court to conduct secret inquiry into the assets amassed by the former minister.  The inordinate delay in taking action on the court order came to light when Vigilance Director Jacob Thomas took stock of the pending cases in the VACB. 
The Vigilance Court ordered the secret probe in February 2016 after receiving a letter alleging that Babu had accumulated wealth disproportionate to his income. The note carried the letter head of 'Thripunithura Prathikaranavedi,' a forum based in the home constituency of the Congress leader who was the state Excise Minister then. The letter had details of benami assets of the Congress leader.   
Though the court order was handed over to Nishanthini, who was the SP of Kochi Vigilance Range, she did not take any action on even after five months. The order did not see the light of the hour till the Jacob Thomas initiated an internal audit.
Read more: Kerala ex-excise minister's house raided by anti-graft bureau
After unearthing the order, the Vigilance Director directed Kochi Special SP of Vigilance to conduct a preliminary inquiry and subsequently the VACB raided the residences of Babu, his daughters, and two aides. A FIR has been registered against the former minister and his aides Babu Ram and Mohanan. The raids created quite a flutter in political circles with a section of the Congress crying witch hunt by the Left government while the ruling front hailed it as a crack down on the corrupt.
Last Updated Mar 31, 2018, 7:05 PM IST