Sonia Gandhi halts speech, covers head during Azaan
Congress president was in Allahabad to inaugurate a photo exhibition.
The photo exhibition was on Indira Gandhi.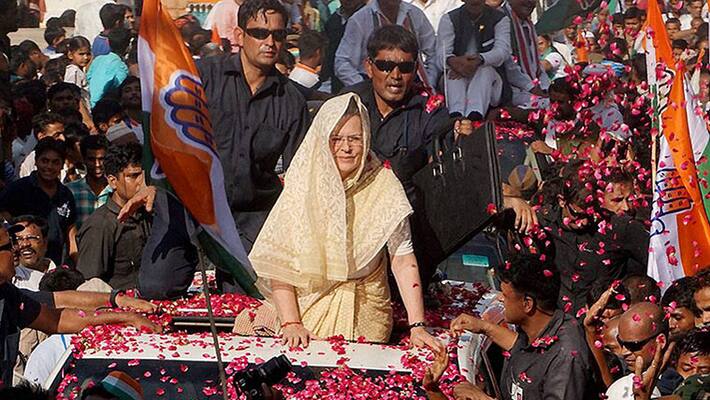 The Congress president's gesture to hold her speech and cover head during the Muslim prayer call, is definitely going to win her some fans in the Muslim majority areas of Uttar Pradesh.
Sonia Gandhi, who was in Allahabad earlier this week, covered her head as a mark of respect.
She was in Allahabad to inaugurate a photo exhibition to mark the centenary celebration of Indira Gandhi.
Sonia Gandhi pauses during a speech as 'Azaan' is heard in the background pic.twitter.com/OTHRztFrzG

— ANI UP (@ANINewsUP) November 21, 2016
Priyanka and Rahul Gandhi also accompanied her on the occasion. While Sonia Gandhi was speaking on Indira Gandhi's commitment to strengthen the nation, the prayer call was heard from a nearby mosque. Promptly she stopped her speech and covered her head with her saree and maintained silence till the prayer ended.
Next year Vidhana Sabha elections are scheduled in Uttar Pradesh and Muslims are around 20% of UP's population.
Two years ago Amit Shah also paused his speech in Kolkata when 'Azaan' was heard. Recently PM Narendra Modi also had paused his speech for about 4 minutes during an election rally in West Bengal.
Last Updated Mar 31, 2018, 7:02 PM IST