Inhumane treatment costs Karnataka HIV patient his life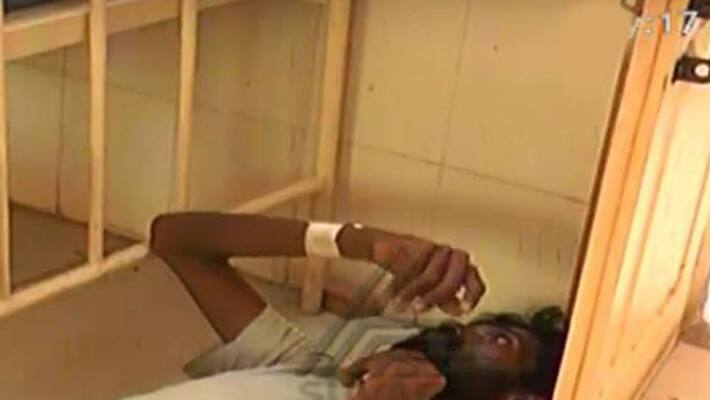 The shocking details of his inhuman treatment prior to his death were exposed by Asianet Suvarna News, which aired footage from inside the Yadgir district hospital where visuals captured the HIV patient lying on the floor in a secluded room.
The room had been locked with a padlock and he had no access to basic amenities, even a toilet. The patient was, therefore, forced to defecate in the same room in which he slept in.  
Local sources say, the patient was a resident of Hunasagi, Surapur Taluk of Yadgir district.
He was admitted to the hospital after local residents found him on the side of a footpath. The hospital administration diagnosed him with HIV on May 11 and kept him locked up in a secluded room in the hospital since then.
The hospital had started treatment only after footage of his living condition was aired across Karnataka by Suvarna News. Sadly he succumbed to the deadly disease barely a few hours later.

State Health Minister, UT Khader told Asianet Suvarna that he had ordered an inquiry into the hospital administration.
"This is not the way a government hospital should work. I have come to know about this incident through your news channel. I will ask for an investigation and instruct the concerned officers to take necessary action. I would like to warn the doctors that if we receive any complaint on this incident, they may have to face legal consequences," Khader said.
The incident has sparked much criticism.  
"If the doctors don't have the patience and interest in treating him, they must arrange other alternatives; they must admit him to some other healthcare centre. It is inhuman to treat a patient like an animal," Mallayya, a social worker said.
"They have not even bothered to contact his family and counsel them. Most HIV patients lose their confidence and zeal to live. This kind of behaviour from the doctors would shatter their confidence level completely and make them die immediately. I enquired the concerned personal but they responded negligently, saying 'people die every day here, who will have time to cry for them?" he added.
Last Updated Mar 31, 2018, 7:06 PM IST