Telangana CM KCR just donated Rs 5 crore in gold to Tirupati.
Telangana has said that the gold was 'on behalf of the state'.
Should the state really be funding such religious displays?
Whatever happened to the idea of keeping the state separate from religion? While no one doubts the deep faith of Telangana Chief Minister K Chandrasekhar Rao, it is important to question why the state must pay for his indulgence? 

The good CM has spent some Rs 5 crore of state funds to offer a golden garland studded with fossilised shells called "Shaligram Haram" and a multi-layer gold necklace called "Makhara Kantabharanam," totally weighing about 19 kg. 

And while this is certainly the largest donation by a state to Tirupati in independent India, it is not even KCR's first (or presumably last) such feat. 

He had 'donated' a 12 Kg gold crown, costing some Rs 3.5 crore,  to Devi Bhadrakali in Warangal. 

All of this bhakti is thanks to a series of promises KCR made during the agitation for a separate Telangana. He says he had promised such donations to various gods - if Telangana became a reality.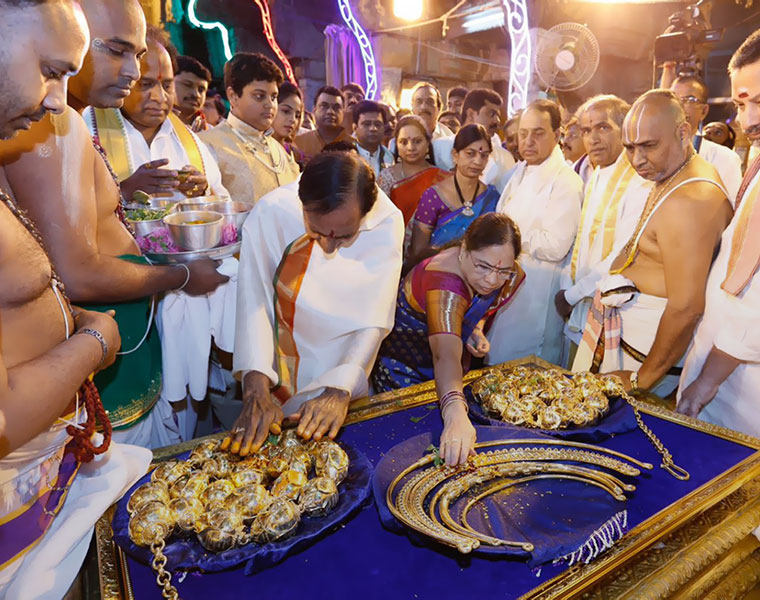 But questions still need to be asked - 

Should tax payer's money be spent on such things, that rely heavily on individual beliefs and not for the common good? 

Did every taxpayer agree that part of their funds would be used to fulfil KCR's promises to the gods? Or for that matter, did KCR take a vote and confirm that every tax payer even wanted him to spend their money to gift kilos of gold to Tirupati? 

Or more accurately, doesn't KCR have sufficient funds to make his own donations? Is there any reason why state funds are being used? 

What about the 12% of the state that is Muslim? Will all this gold be matched with donations to various mosques? 

Of course, we can ask all the questions we want, but in all probability, KCR will not even care - since, in India, politicians routinely consider state funds as something they can spend at their own discretion. 

But still, the sight of a CM happily handing over more gold than most of his citizens would ever see in their lifetime to a religious temple, should shame us all. 

When will this 'Raja rule' end?