SFI brokers truce with Law Academy; BJP, students unions feel cheated
SFI claimed that all their demands were met by Kerala Law Academy and declared their stir a success.
BJP and students organisations clarified that they would continue protests.
BJP has called for a hartal in Thiruvananthapuram on Wednesday.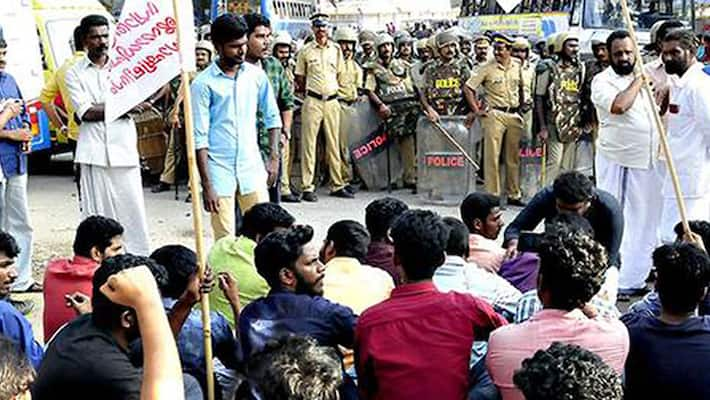 After an eventful 21-days of protests that put the government and the CPM under pressure, Students Federation of India (SFI), the student wing of the ruling party, brokered truce with the management of the Kerala Law Academy which decided to temporarily remove Lakshmi Nair as the principal of the institute on Tuesday afternoon. But, BJP and joint platform of students organisations felt cheated by the SFI and decided to continue the stir until Nair resigns. 
An SFI delegation led by state leaders held talks with the Kerala Law Academy management and came out flashing a document purportedly signed by the director of the institute. Lakshmi Nair will be removed from the post of the principal, a main demand of the agitating students, and she will not enter the campus for five years, the SFI leaders said claiming that their stir was a huge success.  But, soon the management clarified that Nair will not resign but would stay away from the faculty position. 
But V Muraleedharan, BJP former state president, who is on an indefinite hunger stir in front of the Academy, stated that the SFI backstabbed the student protest and declared that he would continue the stir until the students withdrew their protests.  
 
It has been revealed that the Academy turned Rs. 2 crores of black money to white after demonetization.

The joint platform of students unions also stated that the agreement brokered by the SFI was not acceptable. They also called for a joint strike on Wednesday. 
Meanwhile, the BJP workers who blocked the road in front of the Academy in the afternoon clashed with police. Many party workers got injured in the police action. The BJP also called for a hartal in Thiruvananthapuram on Wednesday to protest police action.
Even as the Law Academy struggled to find a solution to the students protests, serious allegations against the Academy continued to emerge on Tuesday as well. Latest reports say that the Academy turned Rs. 2 crores of black money to white after demonetization. The Law Academy deposited Rs. 73 lakh and Rs.30 lakh in two accounts respectively in Peroorkada Cooperative Bank in Thiruvananthapuram in November and December last year. The management claimed that it was the money collected from students for the Golden Jubilee celebrations of institute. But the student cut the claim stating that there was no such money collection for jubilee celebration.    
Last Updated Mar 31, 2018, 6:44 PM IST