Pregnant Kannadiga woman sets Kerala man on fire
The woman had been in a relationship with the dead man and he refused to marry her
She was pregnant by him and he had instructed her to carry out an abortion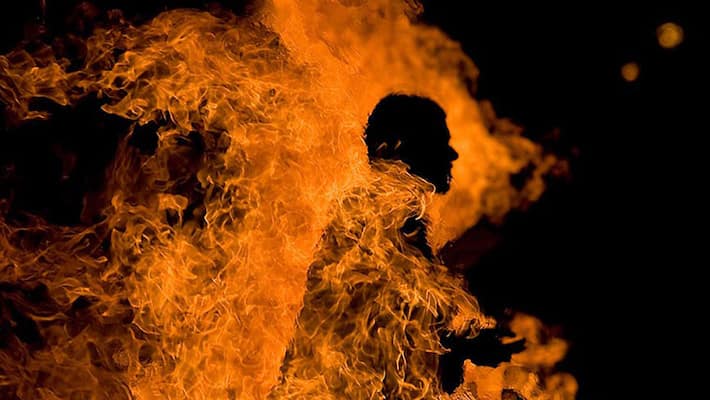 In a role reversal of sorts, a man was the receiving end of a scorned woman's fury. The end, however, was not a pleasant one for the man. 27-year-old Kerala native Mansoor had been in a relationship with 21-year-old Bengaluru girl, Shruthi.
On November 28, the duo had an argument which ended in Mansoor being burnt to death and Shruthi attempted suicide by consuming a handful of sleeping pills, says a report in Deccan Chronicle. Mansoor was admitted to the Victoria hospital but succumbed to his injuries on December 2.
Cottonpet Police, who are investigating the incident, have released Shruthi's confession. Mansoor, ran a tea and snacks shop at the city railway station, while Shruthi was a student at a private medical college in Jalahalli and stayed at a paying guest accommodation there. The duo, police say, got familiar as Shruthi travelled home to Mysuru by train every weekend.
Shruthi had been dating him since 2013 and had become pregnant in June by Mansoor and so wanted to marry him. He, however, refused and told her to undergo an abortion instead. Shruthi was upset and was certain Mansoor would not relent and so decided to take revenge. So she booked a room in a city lodge and took Mansoor there.
Once there, she gave Mansoor a sedative-laced drink and when he became unconscious she set him on fire after pouring kerosene on him. Then she ran out of the room and cooked up the suicide story, police stated. On viewing the CCTV footage from the lodge, the police were able to nab Shruthi, day three later. She later confessed that she consumed sleeping pills to make it appear as if both had tried to commit suicide. The Cottonpet police have registered a case and remanded Shruthi to judicial custody.
Last Updated Mar 31, 2018, 6:43 PM IST