Scandal-hit Meti receives grand welcome in Bagalkote
Meti was overwhelmed and was in tears to see his supporter
Meti refused to speak to the media as CID investigation is underway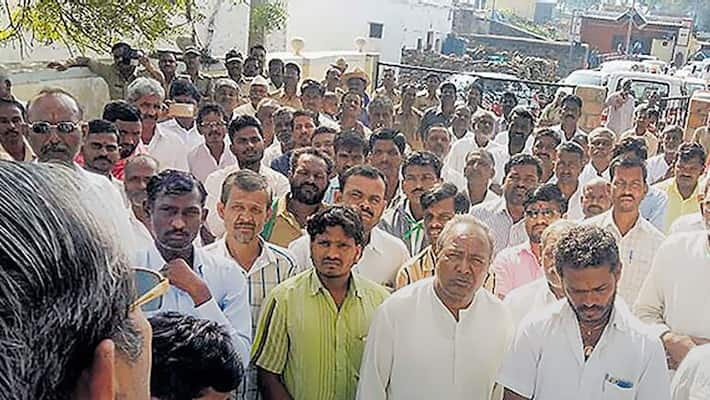 Excise Minister HY Meti had resigned from his ministerial position soon after the release of an alleged sex tape. He had rushed to Bengaluru to meet CM Siddaramaiah soon after the release of the CD and tendered his resignation in order avoid further embarrassment to the party and left for his native village Timmapura.
On Monday when he arrived at Bagalkote, where his office is located, he received a grand welcome from his supporters. When the news spread that he was in Bagalkote, people gathered on the outskirts of the city to welcome him and started shouting slogans praising Meti, Congress chief Sonia Gandhi and CM Siddaramaiah.
Overwhelmed by the crowd's support and encouragement he spoke to the gathered people amid claps and whistles. He expressed his gratitude for their love and support and told the people that the CID report will disclose the conspirers behind the entire controversy. He was in tears when he thanked his supporters for standing by him and promised to stand with them in their difficult times as well.   
On the day of Meti's resignation, some of his supporters tried to attack the media. So this time, the police accorded tight security to the media and prevented any cameramen from going near the former minister. Some journalists who were waiting near his official house in the premises of Municipality building took shelter inside police vans fearing clashes.
Meti refused to answer the media questions since the CID investigation is underway. He said that though he resigned from ministerial position he'll continue as the people's representative and invited them to come at any time to tell him their grievances.
Meti, as a token of gratitude, had arranged mini lunch and tea for all his supporters who had gathered there in thousands from across Bagalkote district.  
Last Updated Mar 31, 2018, 7:00 PM IST