SC questions barring of women at Sabarimala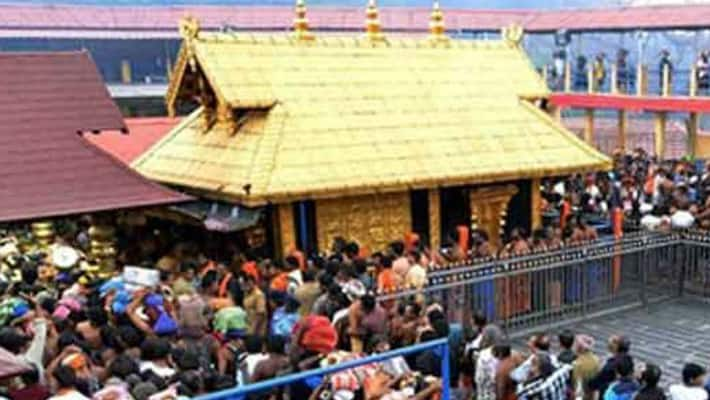 "The question is should there be such a religious practice which creates a dent on the concept of gender equality. You must have some kind of cosmopolitan belief which treats denominations of same faith equally," a bench of justices Dipak Misra, V Gopala Gowda and Kurian Joseph said.
The "tussle" and "differentiation" between the right of men and women will have to withstand constitutional scrutiny, it said when senior advocate KK Venugopal, appearing for the Travancore Devaswom Board which manages the hill-top shrine, vehemently said, "Nobody, possibly the court also, can question the faith and belief."
    
Venugopal, referring to an apex court judgement, said such a judicial intervention would cause "injustice" to the age-old faith and belief and would adversely affect religious
institutions of all faiths.
    
He also said the President of Indian Young Lawyers' Association, which has filed the PIL on the issue, is a practicing Muslim and now demands have started coming up for allowing entry of women in the Haji Ali shrine in Mumbai which, they say, is against their religious practices.
He also reiterated that women are not discriminated on the ground of gender as girls and women of a particular age-group are allowed. At the outset, the counsel for Rajya Sabha MP Rajeev Chandrasekhar sought to intervene in the ongoing hearing of the PIL.
    
Favouring the age-old traditions, he said the devotees of Lord Ayyappa at Sabarimala have a "fundamental right of practising their religion in accordance with the beliefs, cultural traditions and rituals associated with the particular deity i.e., the celibate Lord Ayyappa who presides over the Sabarimala Temple".
Besides the lawmaker, advocate M L Sharma and two Kerala-based organisations, Hind Navotthana Pratishtan and Narayanashrama Tapovanam, also sought nod to intervene. The court, which did not allow these pleas for the time being, however, assured them of a hearing at a later stage.
  
Venugopal also referred to some constitutional provisions to drive home the point that courts should not venture into the territory of "faith and belief" and stressed that there was no gender discrimination in the instant case.
He also referred to the 1993 Kerala High Court judgement on the issue and said that it has already been settled. The hearing remained inconclusive and would resume on May
6.
    
The management of the Sabarimala temple located on a hilltop in the Western Ghats of Pathanamthitta district had told the court that the ban on entry of women aged between 10 and 50 years was because they cannot maintain "purity" on account of menstruation.
Last Updated Mar 31, 2018, 7:04 PM IST