Sachin, Ganguly land in Kochi as ISL fans protest outside stadium
The final Indian Super League match is played between Kerala Blasters and Atletico de Kolkata.
Celebrities like Amitabh Bachchan his son Abhishek Bachchan and Mukesh Ambani are likely to arrive for the evening match.
The match is scheduled to begin at 7:00 pm.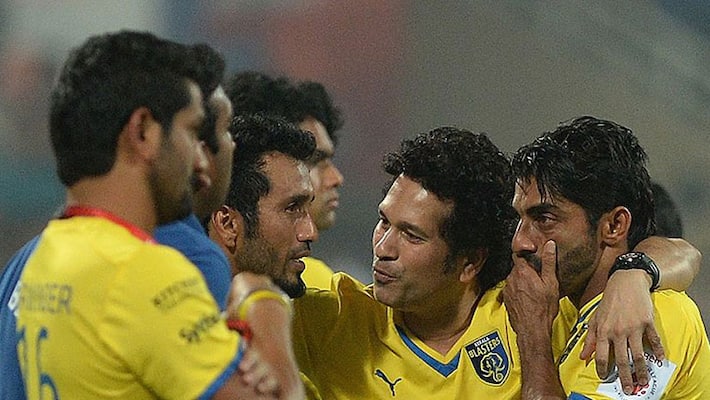 India's two greatest cricketing legends Sachin Tendulkar and Saurav Ganguly have reached Kochi to witness their teams fight each other to grab the Indian Super League (ISL) championship only to see protests across the city as hundreds of football fans failed to secure tickets for the final tournament. The entry passes had been 'sold out' days before, giving weight to the allegations that the organisers sold tickets in the black market. 
Football fans, who couldn't get tickets for the finals, raised a hue and cry over non-availability of passes as they would be missing out an epic match on Sunday played between home team Kerala Blasters promoted by Sachin and Ganguly's Atletico de Kolkata.

Former Indian striker IM Vijayan expressed solidarity with the protesters stating that despite being a former international player,  the Kerala Football Association (KFA) provided him with just two ordinary tickets. An event management company sold the tickets in bulk in the black market with the connivance of the KFA, he alleged.  
KFA president Anil Kumar refuted the allegations and said the association was not responsible for the mess as the final call was given by the governing body of the ISL. 
However, with just hours left for the crucial game many football enthusiasts are left disappointed as authorities conveyed their helplessness in giving out more tickets.  
The mad rush for the tickets started soon after the Kerala Blasters confirmed their place in finals defeating Delhi Dynamos in the semi-finals on 14 December. Tickets put up for sale online were sold like hotcakes and counters at the stadium also ran out of tickets as soon as they were opened.  
Meanwhile, the city is under heavy security blanket as high profile visitors Amitabh Bachchan his son Abhishek Bachchan and business tycoon Mukesh Ambani is likely to arrive for the evening match. 
Last Updated Mar 31, 2018, 6:52 PM IST