RSS worker murdered in Bengaluru
Rudresh was murdered shortly after leading an RSS procession in the area
The atttackers, who slit his throat, managed to escape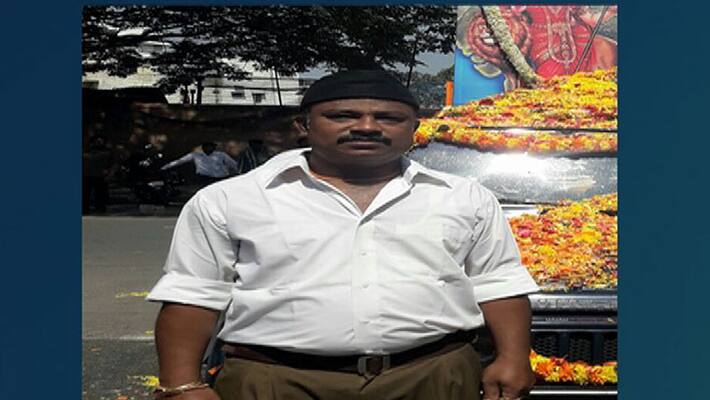 Rudresh, an RSS (Rashtriya Swayamsevak Sangha) worker and a Real Estate entrepreneur by profession, was murdered in broad daylight on Commercial Street, Bengaluru, yesterday. The murder caused tensions in Shivajinagar and the surrounding areas, which still continues. 

Prohibitory orders (Section 144) have been imposed in four police station limits, as a precautionary move. 

RSS organised a 'Ceremonial Parade' at the RBANMS school grounds on Sunday from 9 AM to 11 AM on account of Vijayadashmi. After having participated in the RSS parade, R Rudresh (35) had stopped to have a tea with his friends in a tea stall on Kamaraj Road. He was attacked by two assailants on a Pulsar bike, who slit his throat, killing him instantly. 
The attackers fled the spot, dodging Rudresh's friends, and escaping via Nala Road, reported Jayaram, a witness to the attack. 

Rudresh, who was a real estate dealer by profession, was President of the Jayamahal Block, RSS wing in Bengaluru. Recently he was nominated as Secretary, BJP wing, Shivajinagar Legislative constituency in Bengaluru.  He is survived by a wife and two children. 

Condemning the murder, RSS and BJP activists have held a protest rally in Shivajinagar, Commercial Street and adjacent areas. Some of the shops and establishments on Commercial street were forcibly closed. Some activists have staged a 'Dharna' in front of the police station for some time and held a protest rally at Shivaji Circle. 

NS Megharikh, Bengaluru Police Commissioner; P Harishekaran, Additional Police Commissioner; Sharatchandra , Additional Police Commissioner – Crime have visited the spot. N S Megharikh, Police Commissioner conducted a meeting with senior police officers at Commercial Street Police Station on Sunday evening. 
"Five special teams have been constituted and prohibitory orders are clamped in Shivajinagar and surrounding areas," said, Magharikh, City Police Commissioner.
 
 
Last Updated Mar 31, 2018, 7:00 PM IST