Why should BBMP clean Reddy's wedding mess?
Huge pile of garbage was found in the palace ground premises
BBMP labourers and vehicles were used to clean the premises
The commissioner has ordered for enquiry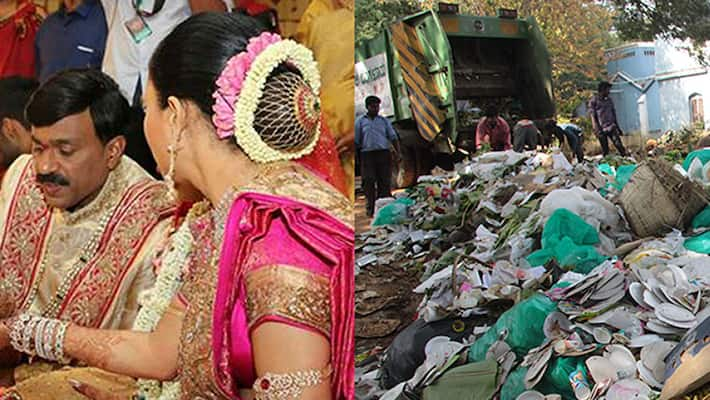 The aftermath of the grand Reddy wedding, left the Palace Grounds strewn with garbage.  As per the law private functions and conventions cannot use BBMP labourers and vehicles to dispose garbage and left outs. However, it seems the Bruhat Bengaluru Mahanagara Palike (BBMP) was  only too keen to oblige to the former Karnataka's minister, who spent 40 months in state prison over corruption charges and cost BJP dearly to lose the next elections.
Any private organisation of individual, who use the palace ground for their functions and conventions, are supposed to clean the Palace Grounds premises on their own. But these were completely ignored and it then had to be cleaned up BBMP labourers.  It is claimed several BBMP garbage trucks had be put in service to clean up the mess left by the Reddy wedding.
Watch how Reddy's obscene wedding left Bengaluru filthy 
Many replicas of temples, heritage centres, Kalyan Mantaps, welcome outlets, sheds, gigantic arches, were built in POP (Plaster of Paris) and the managers estimate that if a hundred labourers work 24/7 then it takes about a week to clear the entire premises.
As per the BBMP rule, dry garbage and wet garbage should be maintained separately. Even this rule was not followed by Reddy.
As per the guidelines with regard to the rental of Palace grounds, the premises can be given on rent for maximum 3 days. But for Reddy the palace grounds was allowed to use for more than two months. Construction of marriage set was started, in the palace ground with an extent of 35 acres, two months ago. Besides, now the dismantling and disposing of temporary PoP set will take one more week.  
The BBMP Commissioner Manjunath Prasad said that he'll order an investigation into the matter.
"We depute private agencies to clear garbage of private functions. However, we have come to know that BBMP vehicles and labourers were used to clear the Palace Ground after the Reddy wedding. We'll investigate on the matter" N Manjunatha Prasad, BBMP Commissioner  said.
Last Updated Mar 31, 2018, 6:40 PM IST