Reddy breaks all rules, to make grand entry back to Ballari
Mining baron Janardhan Reddy returned to his home turf, after spending five years in jail term.
Thousands of his supporters blocked traffic for six hours.
Reddy was allowed by the court to visit Ballari for his daughter's wedding.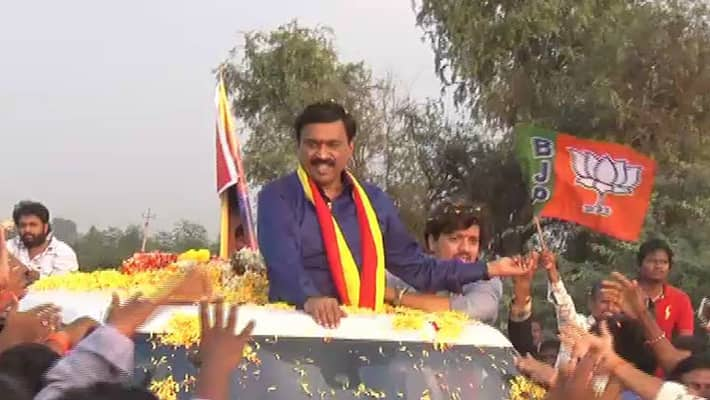 Mining baron Janardhan Reddy returned to his home turf, after spending five years in jail term, in a grand procession led by DJ, taken out without the police permission!
"I will not leave Bellary till my last breath," said Reddy, who is out on bail.
The question now that is being asked is that whether his return, an indication that will Ballari again be 'ruled' by the Reddy brothers?  The grand almost-king like welcome accorded to the former minister certainly seems to suggest so.
Thousands of Reddy supporters queued on the road as he made his way back to home, it took his convoy six hours to wade through the crowd.
The Central Bureau of Investigation (CBI) had arrested Reddy on charges of indulging in large-scale illegal mining on September 5 in 2011.  Reddy came out on bail on January 20 in 2015, however, the Supreme Court barred him from visiting Ballari and Kadapa districts.
But, in view of his daughter's marriage to be held on November 16, Reddy submitted a plea to the Supreme Court seeking permission to visit Ballari for customary preparations and to distribute wedding invitation cards.  Accepting his plea, the SC has permitted him to visit Ballari from November 1 to 21.
Reddy started his journey to Ballari , after offering prayers on the banks of Tungabhadra River in Kurnool district of Andhra Pradesh.  Kampli MLA Suresh Babu accompanied Reddy.  
The open jeep carrying Reddy stopped at every village, which caused a massive log jam stretching to  10 kms.
Local reports said that several of the Reddy supporters were also opening beer bottles in celebration after sprinkling  it over Reddy.
The procession also included a 'DJ', who kept playing racy numbers.  In view of the public nuisance caused,  District Superintendent of Police, Chetan has directed the officers concerned to file a complaint against the organisers of the event for flouting rules.
A case also has been filed against Janardhan Reddy by the Ballari police for disrupting the traffic movement in the district.
It is reported that Reddy supporters came in carrying two trucks full of flowers stuffed and another two carrying firecrackers.
Also Read: Reddy puzzle: 'No income' but crores spent on invitation?
Janardhan Reddy, recently, made for spending crores on his daughter's wedding invitation. He was criticised for the lavish video-card invitation.
Last Updated Mar 31, 2018, 6:43 PM IST