Watch: Siddaramaiah inconsolable as son Rakesh laid to rest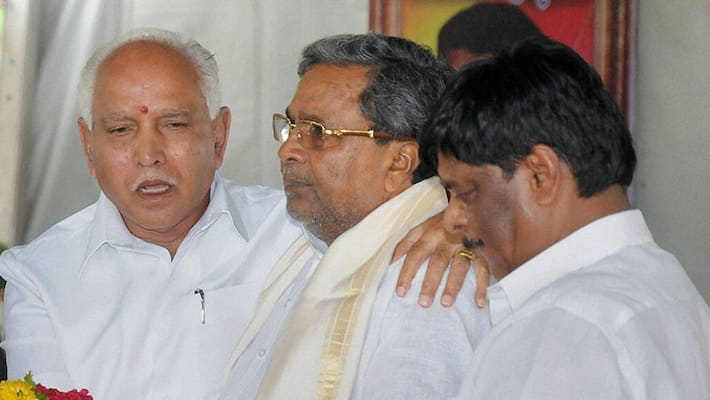 The last rites of CM Siddaramaiah's son Rakesh were performed at the Katur farm in Mysuru at 4.30 pm today.
The funeral followed the Bhandara tradition, under the direction of the Kaginele seer Eshwaranandapura. Only close relatives took part in the funeral. The Media and vast mobs of people were not allowed at the venue.
Earlier in the day, thousands gathered at the Dasara Exhibition Ground in Mysuru to pay their last respects to Rakesh. The CM was inconsolable and was seen weeping before his son's body.
Rakesh was suffering from pancreatitis and died at the University Hospital in Brussels, Belgium on Sunday. His body was brought to Varuna in Mysuru on Monday on a special flight.
Leaders from various parties paid their last respects and tried to console Siddaramaiah.
ರಾಕೇಶ್ ಸಿದ್ದರಾಮಯ್ಯನವರ ಪಾರ್ಥಿವ ಶರೀರದ ಅಂತಿಮ ದರ್ಶನದ ದೃಶ್ಯಗಳು pic.twitter.com/HFCchP8Cw5

— Suvarna News 24x7 (@suvarnanewstv) August 1, 2016
Rakesh was on a tour with his friends, when he developed complications and was admitted to the Antwerp Hospital in Brussels. He had been suffering from pancreatitis following an accident 15 years ago. Siddaramaiah and his family had visited Rakesh in Brussels after he was admitted to the hospital there and before the end, reports indicated that Rakesh was recovering. 
Rakesh is survived by his wife two children, a son and a daughter.
ರಾಕೇಶ್ ಸಿದ್ದರಾಮಯ್ಯನವರ ಪಾರ್ಥಿವ ಶರೀರದ ಅಂತಿಮ ದರ್ಶನದ ದೃಶ್ಯಗಳು pic.twitter.com/w9vxOZHm7Q

— Suvarna News 24x7 (@suvarnanewstv) August 1, 2016
Leaders stand united to console Rakesh's death
BJP and JD(S) leaders stood united with CM Siddaramaiah to share his grief. Leaders were seen consoling the CM during the final viewing.
Despite their differences, the CM's political adversaries - state BJP President BS Yeddyurappa, Union Minister DV Sadananda Gowda and JD(S) State President HD Kumaraswamy expressed their condolences and stood with Siddaramaiah.

While Kumaraswamy held the CM's hand, symbolically suggesting him to be strong, Yeddyurappa put his hand on the CM's shoulder to console him. DV Sadananda Gowda also wept seeing Rakesh lying in the coffin, perhaps remembering his elder son Kaushik Gowda, who died in road accident few years ago.
He hugged Siddaramaiah, sharing that he could understand the pain of losing a son.
 

ರಾಕೇಶ್ ಸಿದ್ದರಾಮಯ್ಯನವರ ಪಾರ್ಥಿವ ಶರೀರದ ಅಂತಿಮ ದರ್ಶನದ ದೃಶ್ಯಗಳು pic.twitter.com/7tFo5wL9yM

— Suvarna News 24x7 (@suvarnanewstv) August 1, 2016
Union leaders Digvijay Singh also attended the funeral and on behalf of the Congress party.
Later, Rakesh's body was taken to T Kotur village in Mysuru to for the last rites. Only a few family members and close friends were present in the funeral. 
Last Updated Mar 31, 2018, 6:58 PM IST