Karnataka PUC results out, fruit vendor's daughter tops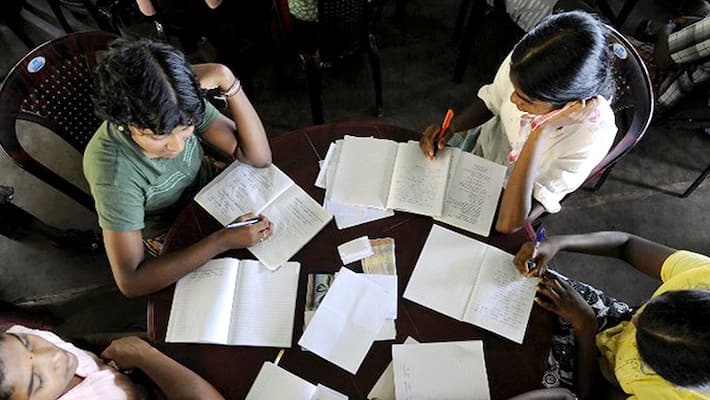 This year 6.4 lakh students have written the examination. Besides, results of the students who were interrogated for the leakage of question papers will also be announced today.
Those who have scored more than 90% can send a selfie video explaining their preparation for the exam and their future ambitions. The video should not exceed 20 seconds. Such students should also enclose their registration number, their college and marks details along with their video.
Selected videos will be telecast in the  Suvarna News website (www.suvarnanews.tv). Videos can be sent through email or WhatsApp. Email: pucresults2016.kp@gmail.com WhatsApp 9538733555. 
Highlights so far:
Results announce that 57.20% of the students passed
Dakshina Kannada gets first place and Udupi comes second.
As usual, this time also, girl students score maximum marks.
Sahana Kulkarni ranked 1 in Commerce (Darbar PU College, Vijayapur). She has scored 594/600
Rakshita Taman, Sardar Patel College, Bengaluru, is this year's Science topper. Her marks: 596/600.
Anita Basappa from Bellary is the Arts topper. Her marks 597/600. Anita Basappas father is a fruit vendor at the Kudlagi bus stand
Girls result: 64.78% passed, Boys result: 50.02% passed
Dakshin Kannada pass percentage 90.48%, Udupi 90.35%, Coorg 80.35%
Yadgir district stands last in the results.
In 2015, the pass rate was 60.54% but this time, it has decreased to 57.20%.
91 colleges get zero result
Arts result: 42.12%, Science result: 62.25%
The last date to submit application for re-evaluation is 7 June, 2016. In order to obtain a scanned copy of the answersheet an amount of Rs 400/- per answer script needs to be paid. The last date to submit the application to obtain scanned copy of answer sheet is 30 May, 2016.
Those who have failed will be given another chance to write the Supplementary exam that will be held between 1 to 13 July, 2016. The last date to pay supplementary exam fee is 6th June. The supplementary exam fee will be Rs 101 per subject for Rs 301 for 3 subjects.
Last Updated Mar 31, 2018, 6:49 PM IST