H Anjaneya: Meet Karnataka's embarrassing Minister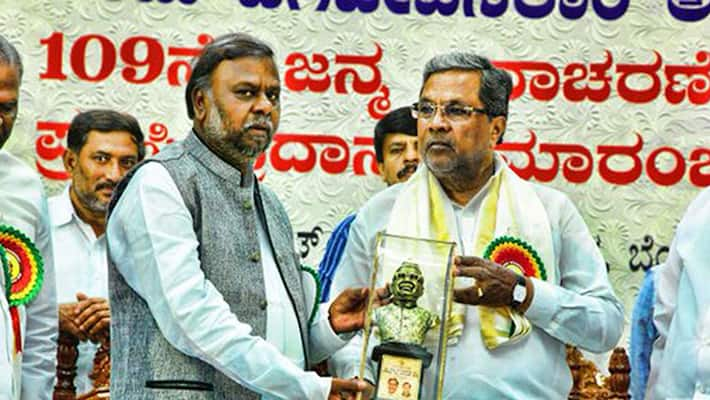 Right from his first day in the cabinet, Karnataka's social Welfare Minister H. Anjaneya has been in the news for making the most bizarre statements. At one point, one has to wonder what he imagines when he says some things. Here are five of the best/worst such instances:

1) He created a huge scene while taking up his duties in the Vidhana Soudha in January 2014. He demanded to be given the room 340-341, which was occupied by Karnataka energy minister DK Shivakumar at the time. He was so aggressive in his demand that he ordered officers to break open the locked room, whatever the consequences may be. CM Siddaramaiah eventually intervened and resolved the issue. 

2) On 7th January 2014, he demolished the wall dividing room 340 and room 341 in the Vidhana Soudha to expand his allocation. Since it was a Sunday, no journalists were allowed inside and it was done without the approval of DPAR (DEPARTMENT OF PERSONNEL & ADMINISTRATIVE REFORMS). Even the CM had no information about the act. Such renovations in a heritage building like the Vidhana Soudha require a series of approvals before they can be undertaken. 

3) In November 2015, Suvarna News conducted a sting operation in which Anjaneya's wife was caught collecting a bribe of ₹7 lakhs from a contractor for the supply of food to an SC/ST hostel. The video went viral and a judicial enquiry was called. CM Siddaramaiah refused to comment or give any statement on the issue.  Anjaneya claimed that it was a fake video and immediately took anticipatory bail. A complaint was filed in the Lokayukta, but since the Lokayukta was dissolved, the investigation has gone nowhere.

4) Recently he kicked up a storm in the state by comparing private schools to prostitution centres. "Collecting money from the parents has become a business for private schools. This trend is worse than prostitution" Anjaneya said at the Government Higher Secondary School in Kurubarahalli in Bengaluru.

5) Possibly his strangest statement was about his brother-in-law Gonal Bheemappa. Gonal Bheemappa is an ex-chairman of the Karnataka Public Service Commission (KPSC) who is accused of being actively involved in illegal recruitments for the KPSC. 

But Anjaneya gave the following statement: "Gonal Bheemappa is my sister's husband. Hence I will try to protect him as much as possible". 

Enormous criticism has been coming in from across the state that when the issue is in the court and is still under investigation, a minister in a responsible position should not give such statement.   
Last Updated Mar 31, 2018, 6:49 PM IST