Probe ordered into veracity of photo of young women at Sabarimala
Sabarimala Temple bars the entry of women between the ages of 10 to 50
Police officers in charge of screening devotees clarified that the women were above 50 years
Government ordered probe into the incident following a complaint that the women misused VIP Darshan facility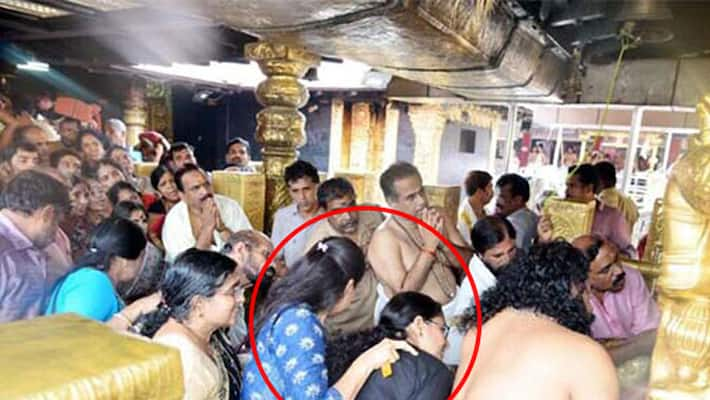 Sabarimala Temple has once again raked up a controversy over letting women in Sanctum Sanctorum. The Devaswom Board has ordered a probe after a picture of women at the sanctum sanctorum started circulating on social media. 
 
Also read: Photos emerge of young women at Sabarimala temple
 
A picture of churidar clad women appeared on the Twitter wall of T G Mohandas, BJP's intelligence cell convener.
 
Photo at sanctum sanctorum of Sabarimala reportedly on 11.04.2017. Hope these girls are above 50! pic.twitter.com/c4XU92OVGp

— mohan das (@mohandastg) April 12, 2017
It soon spread like wildfire on social media and many claimed that the woman didn't look like they were 50 years. 
 
The police officials, who were in charge of screening the devotees came out with a clarification that the women, though looked young, were above 50-years and that they had produced valid proofs for age. However, there were reports that the women secured 'VIP darshan' facility with the help of a cashew businessman in Kollam, who is a known devotee of Sabarimala Temple. 
 
Soon after the issue gained publicity, Devaswom Minister Kadakampally Surendran ordered a probe by Travancore Devaswom Board's (TDB) vigilance wing as women between 10 to 50 years is banned from entering the temple. The Minister explained that he ordered a probe following a complaint that women managed to get into the sanctum sanctorum of the temple by misusing the VIP Darshan facility being enjoyed by a businessman in Kollam. 
 
"We would strictly check whether somebody is enjoying undue benefits in the name of VIP Darshan," the Minister said. 
 
TDB sources revealed that the incident took place on April 10 or 11. 
 
With the government launched an investigation, many people have come up with claim that the pictures were doctored to rake up controversy. 
 
Sabarimala Response - Sri @mohandastg ji has raised an issue of "Ladies in Sabarimala". Photos are not Fake. But they are above age 50 (1/2) pic.twitter.com/IAXmWkWnLl

— Rahul Easwar (@RahulEaswar) April 16, 2017

In a bid to oppose ban on women from entering the temple, last year, women had launched a campaign called #Readytowait, saying that they are ready to wait until they hit menopause to enter the sanctum sanctorum of the temple. 
 
Last Updated Mar 31, 2018, 6:45 PM IST