Kerala govt proposed to free 1911 prisoners from jail in connection with the 50th anniversary of state formation.
The Pinarayi Vijayan govt amended an earlier list by UDF ministry.
Ever since the state Governor rejected the list of 1911 prisoners submitted by the government to be freed as part of giving mass clemency, there were rumours that CPM leaders and criminals convicted in the sensational TP Chandashekharan murder case have been included in it. When questions regarding this were raised in the State Assembly, Chief Minister Pinarayi Vijayan evaded a specific answer.
But RTI documents accessed by Asianet News prove that all the 11 convicts in the murder of RMP leader TP Chandrashekharan were in the list to be freed.  Muhammad Nisam, who is serving life imprisonment in the infamous Hummer murder case also found a place in the list. The new revelations exposed that the state government was trying to free prisoners who are not eligible for clemency, with political intentions.
Besides TP murder convicts, notorious gangster Om Prakash and convicts in the Kalluvathukkal hooch tragedy are also in the list.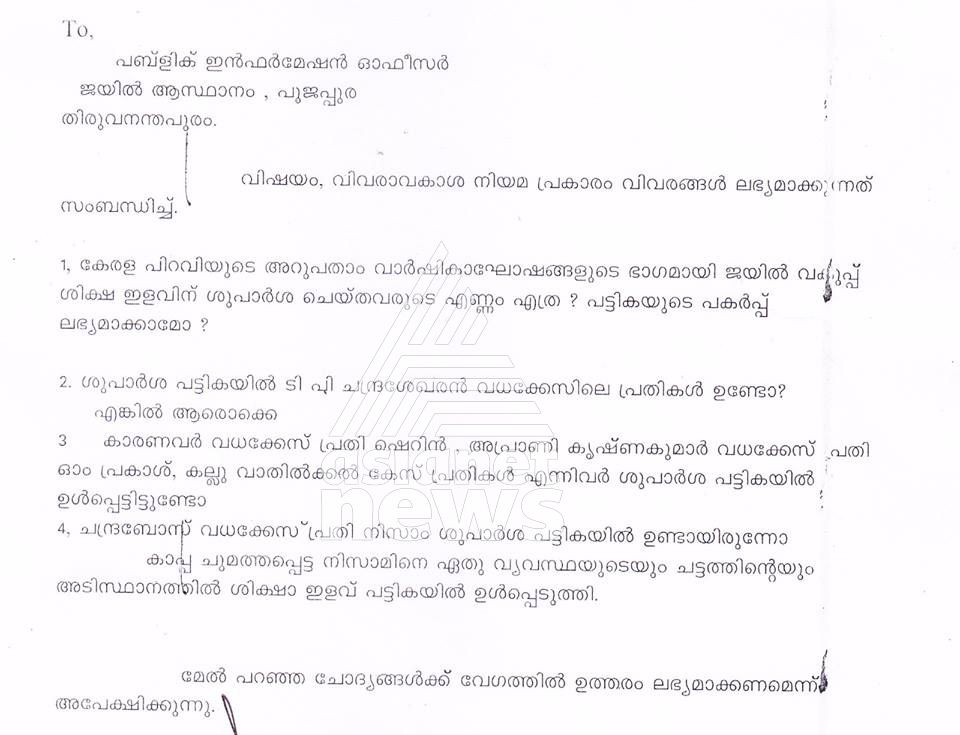 Interestingly, all the convicts in the TP Chandrashekharan murder case would have been released had the Governor approved the list. Chandrashekharan, a former CPM leader who quit the party and formed Revolutionary Marxist Party, was hacked to death by eight-member gang on 4 May 2012. Eleven accused including CPM leaders Kunjananthan and KC Ramachandran were sentenced to life imprisonment in January 2014. The life term awarded to CPM leaders had come as a huge embarrassment for the Communist Party which always claimed that it had nothing to do with the murder.
The first list of prisoners for mass clemency was prepared by the Prisons Department, which was vetted by a panel headed by DGP. Governor P Sathasivam rejected the list pointing out that it violated norms set by Supreme Court. The Chief Minister had expressed dissatisfaction with Governor for leaking the rejection letter to the media.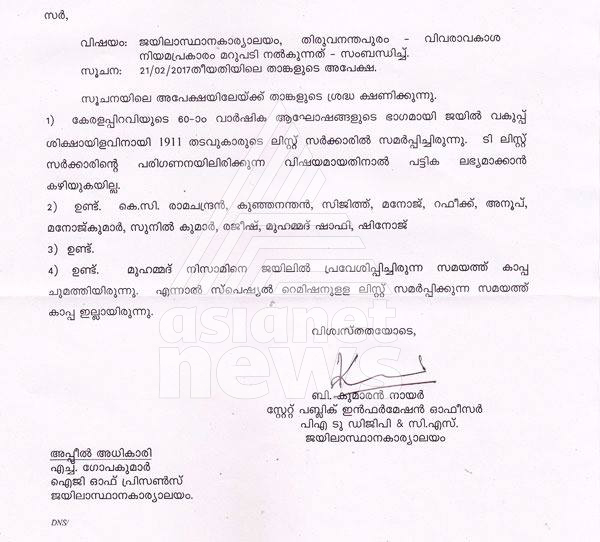 When the rejection raised a political controversy, Pinarayi Vijayan had blamed the media for distorting things. But he skipped the questions regarding TP Chandrashekharan murder convicts. In a reply in the assembly, Vijayan avoided a direct answer to the question.
 
Related: Mass clemency: More than half of convicts in Kerala jails likely to be freed
 
But now, it has become very clear that the government amended an earlier list prepared by the UDF government to free TP Chandrashekharan murder convicts in a secret move. Ramesh Chennithala, who was the Home Minister in the UDF ministry, clarified that the names of TP murder convicts were not in the list prepared by his government.
The Congress and RMP warned the LDF government against any attempt to release of CPM criminals under the cover of mass clemency. "I will go to any extent against this move. I'll start an indefinite Satyagraha in front of CM's residence against any move to free TP Chandrashekharan's murderers," said KK Rema, widow of RMP leader.