Operation Murga: The plot to murder RSS' Rudresh
The police discovered the faces of the accused with the help of 12 CCTV cameras.
The investigative team even visited Kerala and Tamil Nadu.
The plot was codenamed as 'Operation Murga'.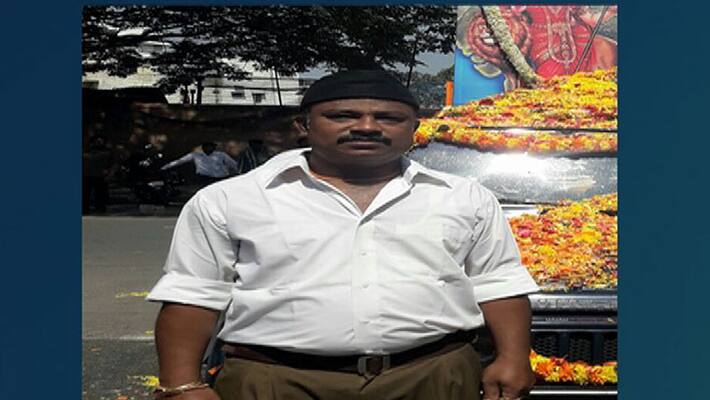 The deceased RSS worker Rudresh was a resident of Milk Street, Shivajinagar and had been successfully organising the RSS in his locality. Mohammad Sadiq alias Mazar, a garage mechanic, had his shop near Rudresh's house and he often quarrelled with Rudresh.

According to the police, as Mazar was not on good terms with Rudresh, he plotted his murder with the assistance of one Vasim Ahmad. They both took the help of Muhammad Mujeeb Ulla alias Mujeeb and Irfan Pasha. The murder, which happened on October 16, was nicknamed 'Operation Murga' by the accused. 

Allegedly, Irfan and Mujeeb have some contacts with a communal organisation based in Kerala.

 Two of the accused claim they are the members of the Popular Front of India, a Muslim fundamental organisation based in Kerala.
 Karnataka police have visited Tamil Nadu and Kerala in this regard. 
Mazar used his motorcycle - a Bajaj Pulsar - for the murder. He had changed the number plate of his bike for the killing. As he was quite familiar with the Shivajinagar area, on October 16 he rode the bike and followed Rudresh. Vasim, who was the pillion rider, was the one who attacked Rudresh, slashing him in the neck with a large edged weapon. 
Police examined more than 50 CCTV cameras installed in the locality. Of these, ten cameras have captured visuals of the criminals. The face and features of the Irfan and Mujeeb, who were following the murderers, are clearly seen in four cameras out of the 10. 

Shivajinagar cops identified Mujeeb and arrested him. Based on the information provided by Mujeeb, the police have arrested the main culprits - Vasim and Mazar - whose faces were not clearly seen in the CCTV footage.
 Eventually, all the arrested accused revealed how the planned the murder. 

Police produced the accused before the court, and the court has handed over the accused to the judicial custody for 14 days.
Last Updated Mar 31, 2018, 7:04 PM IST