Naxal Varghese was killed in a fake encounter in 1970
Government filed affidavit in a case filed by his siblings seeking compensation
CPI (ML) Red Flag asked government to correct the stance immediately
The state government's affidavit terming Naxal Varghese a hardcore criminal has kicked up a political storm within the Left Democratic Front (LDF). The state government had in an affidavit filed before the High Court stated that Varghese was the leader of a gang involved in dacoity and murder.
 
CPI leadership is irked by the statement of the government. "The affidavit is different from the view of Left parties. We will look into what went wrong," a senior leader said. It is believed that the affidavit, filed in July, 2016, was prepared during the period of UDF government.
 
However, the CPI (ML) Red Flag urged government to correct the stance immediately. Expressing strong protest, party Central Committee member Charles George said the left government should take corrective steps. "We will write to Kerala Chief Minister and CPM central committee," he said.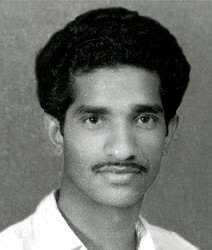 Forty seven years after Varghese was shot dead in an extrajudicial killing in Wayanad forests, the Home Department has informed the court that conviction of police officers in the fake encounter killing cannot be considered as judgment of Naxal's character. The response was given in a petition filed by siblings of Varghese including A Thomas seeking compensation.
 
"Death of Sri. Vargas has been investigated by CBI. After investigation, it submitted a final report before the Special Court, charges were framed and after the trial the Special Court convicted Sri. K Lakshmana. Neither the investigating agency, nor the Special Court that tried the case could find any reason to deny the fact that Varghese was a notorious criminal involved in murder and dacoity cases in Wayanad area. Hence it is submitted before this Hon'ble Court that the base of the claim of the petitioner is unfounded and that the prayer of the petitioners for compensation is liable to be dismissed," the affidavit said.
 
Encounter killing of two Maoists in Nilambur forest in November 2016 had already raised issues in the Left Front. CPI state leadership had come down heavily on the incident. CPI state secretary Kanam Rajendran had said that Kerala, unlike other states should not hunt Naxals. "No one should gun down anyone for expressing their opinion. That is not the approach of the Left," he had said.