Nandi Hills to hike entry and parking fees due to GST; expects to collect Rs 4 crore
The Horticulture Department decided to double the charges of entry and parking for bikes and cars at Nandi Hills. The prices have been increased for the vehicles which go to the top of the hill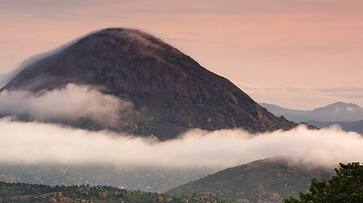 Bengaluru: Nandi Hills, the popular tourist destination near Bengaluru, will be hiking charges for entry and to use the parking facilities.
The Horticulture Department, which manages the place, will increase the entry charges from Rs 10 to Rs 20 for adults. Similarly, parking charges will also see a hike for two-wheelers, four-wheelers and auto-rickshaws.
The parking fees have been increased to Rs 30 for two-wheelers, from Rs 20. Four-wheelers have price differences based on the seats and parking area. A 4+1 car parked near the bus stand will have to pay Rs 125. The same on the hilltop is Rs 175. A four-wheeler that is 5+1 seater, parked near the bus stand, will have to pay Rs 150 and Rs 175 on the hill top. Earlier, the parking fare for four-wheelers near the hilltop was Rs 100.
Auto parking fares have also increased, near the bus stop it is Rs 70 while on the hilltop it is Rs 80.
The special officer for Nandi Hills, Ramesh N, said that the measures are being taken to discourage people from taking their vehicles on the hilltop, this would help decongest the hilltop. "We have introduced battery-operated vehicles, and there is a proposal to introduce cycles on rent", he said.
Ramesh said that the reason behind increasing the prices was due to Goods and Services Tax (GST).
"At present, GST is not part of the fee collected by the existing contractor. In two months, a new contractor will be selected to collect the new fee for a period of two years. The department is expected to collect Rs 4 crore revenue in two years, of which 18% will go towards GST. The last revision was made three to four years ago," he told The Hindu.
Last Updated Dec 7, 2018, 5:54 PM IST