Long-delayed underground section of Bengaluru metro opens
The 4.8 km long underground section from Cubbon Park to City railway station completes the 18.10 km long east west corridor, also called Purple Line.
The underground section that passes through Vidhana Soudha, the state secretariat, consists of five stations. Cost of construction for this stretch is about Rs 2,000 crore.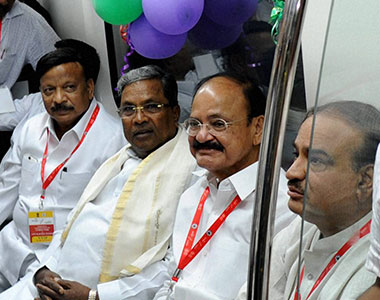 The section was inaugurated by Chief Minister Siddaramaiah and Union Urban Development Minister Venkaiah Naidu. They also inaugurated the station in front of Vidhana Soudha named after B R Ambedkar.
With the completion of this stretch, out of the 42.3 km of phase 1 of the "Namma Metro" project, 33 km is operational. Phase 1 includes east west corridor of 18.10 km with 17 stations and 24.2 km of north south corridor with 24 stations.
At the inaugural event, Siddaramaiah said, "The first phase of Namma Metro is almost 90 per cent complete and the rest will be completed by November 1 and will be free for operation."
"There was a delay in completion of phase one as we stumbled upon a rock while working on an underground stretch," he said.
A sum of Rs 13,845 crore has been spent on phase one, out of which Rs 5,335 crore is borne by the state government. Stating that the second phase of the metro will be about 72 km, Siddaramaiah said it will cost about Rs 26,405 crore, out of which Rs 9,000 crore will be borne by the state.
"Work on the second phase has already started after required approval from the Centre and it is likely to be completed by 2020," he said.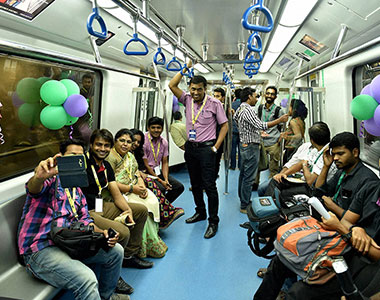 With the operation of phase one, people travelling from Bayappanahalli to Mysuru Road, a distance of 18.10 km can be covered in approximately 35 minutes.
Naidu assured that the Centre government is cooperating with Karnataka government in realizing phase three of Metro project for which the feasibility study is underway.
He said "with the opening of this line today, the total metro line operational in the country is 316 km in the cities of Delhi, NCR, Kolkata, Bengaluru, Chennai, Jaipur and Mumbai.
Around 496 km is under construction in various cities...."Another 580 km is under consideration for Vishakapatnam, Vijayawada, Pune, Ahemadabad and others," he added.
Union Chemicals and Fertilizers Minister Ananth Kumar, advocating multi-mode transport system for Bengaluru city, said for one crore citizens in the city, there are about 56 lakh vehicles.
Last Updated Mar 31, 2018, 6:59 PM IST