Kerala Muslim Minister makes historic visit to Sabarimala temple
Jaleel is the first Muslim minister to pay a visit to the temple.
'Communalists of all religions should visit Sabarimala,' he said after the visit.
Sabarimala is a holy place of religious harmony, Jaleel said.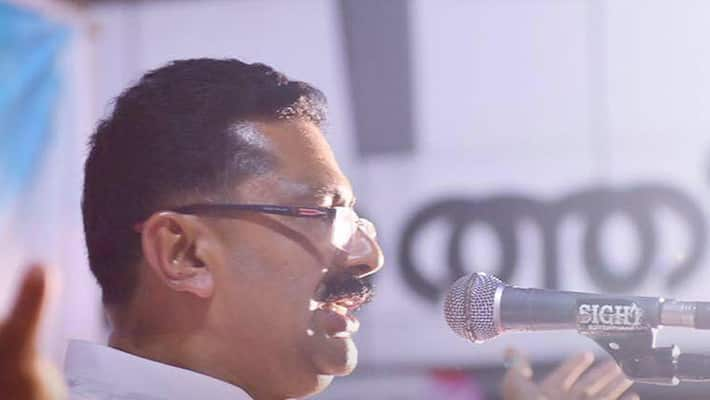 K T Jaleel, the Minister for Minorities in Pinarayi Vijayan ministry made a historic visit to the famed Sabarimala Sree Dharma Sastha Temple on Sunday to become the first Muslim Minister in Kerala to visit the forest shrine. 
"Communalists of all religions should visit Sabarimala," Jaleel said after visiting the temple. "They can only return from the temple with the great message of religious harmony in mind," he added. 
The Sabarimala shrine is a holy place where people from all religions and castes can come. It is the sanctum sanctorum of religious harmony and amity, the minister said.  He also received the 'holy water' from the main priest of the temple. 
The minister visited the pilgrimage centre located in the Periyar Tiger Reserve of  Western Ghats mountain ranges of Pathanamthitta district to attend a meeting to review the arrangements for the Makaravilakku festival in the temple. His senior cabinet colleague Devaswam Minister Kadakampilly Surendran accompanied him to the temple.
"It was 1.15 a.m. when we reached the Sabarimala Sannidhanam. Spent the night there and visited the temple in the morning," the minister posted on his Facebook page, with photographs. "There's no ban on anyone. I reached the Vavar Temple, who was the Muslim friend of Ayyappan. Even after hundreds of years, their friendship remains strong. Let's recreate the good old days."
Also read: Firebrand Hindu leader airs doubt on Vavar Swami's Muslim roots
Jaleel, who was elected to Kerala Assembly from Thavanur in Malappuram as an Independent candidate backed by Communist Party of India-Marxist (CPM), was a firebrand leader of the Muslim League before he was expelled from the party in 2005 for questioning the leadership. 
Last Updated Mar 31, 2018, 6:49 PM IST