Now the newborns will be discharged with the mother only when their photos taken after childbirth match
New rules made to ensure safety of the newborns in hospitals
Recent case of missing newborn from Jayanagar General Hospital has led to the changes in discharge rules
The incident of a newborn being taken away by an unidentified person at Jayanagar General Hospital had shook the city. Sahanashree, mother of the missing newborn is said to have gone into depression. She is under psychiatric care now.
Last week, Sahanashree gave birth to twins- boy and a girl. The girl had breathing issues and hence was kept at NICU ward.  One day, after breastfeeding, nurse named Thippamma was taking the baby back to the NICU, when she encountered an unidentified person on the way, who introduced himself as the relative and the nurse handed over the baby to him. The man vanished from the hospital within the matter of seconds, said the nurse.
However, following this incident, Health and Medical Education Department has tightened the discharge procedures in the hospitals.
"So far, the newborns were given a tag, but still there were incidents of child thefts reported as people who stole babies used to hoodwink the authorities and securities and escape with the baby. But now the rules have been changed and even patents will have to follow certain foprmalities before the discharge, to ensure the safety of the newborns," said PK Devadas, Dean, Bengaluru Medical College and Research Institute.
Also Read: Why are newborns only vanishing from government hospitals?
"The hospitals including Vani Vilas and Bowring and Lady Curzon Hospital, will allow the new born from the ward only if the mother and child's photo is shown at the gate and if that matches the photo taken after the childbirth," he said.
He gave details of the procedure and said that, after the childbirth, the photo of child and mother is taken. The the photocopies will be given to the parents and security at the exit point. The parents will be allowed to take the baby out of the hospital , only when the document and photo is shown during the discharge.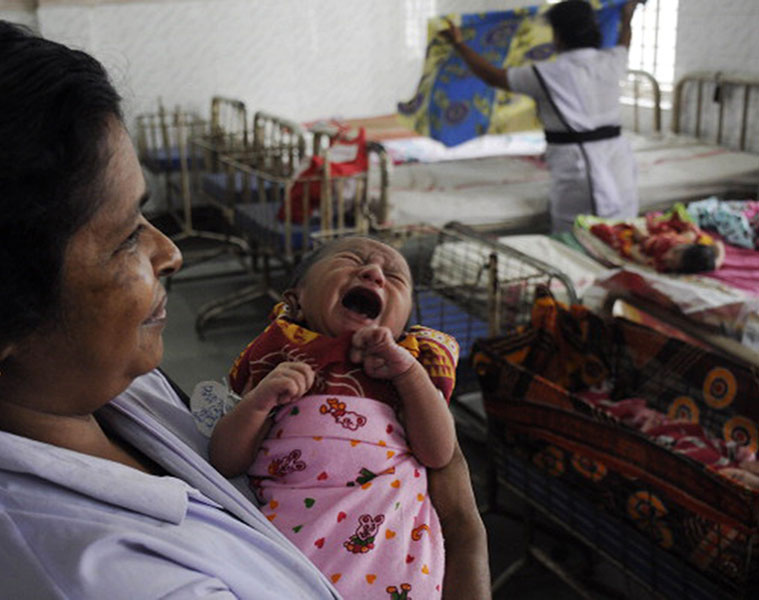 Dr Rajni, Deputy Director of Child Health wing of the Health Department has sought a report in connection with baby theft cases says, "The new procedure will be followed across all government hospitals. This apart, 360-degree camera will be installed  in all the hospitals and security will be asked to check for photos of the newborn along with mother before discharging them from the hospital.
Meanwhile, efforts are being made by police through obtaining the CCTV footage to identify and catch the culprit who took the baby from Jayanagar General Hospital.
"We are questioning some hospital staff in this connection. We suspect that some nurses might be involved in the mafias which steals the newborns from hospitals," said a source.