More friends than enemies? Karnataka, Tamil Nadu's shared icons
Tamil Nadu CM Jayalalithaa, Thalaiva Rajinikanth and Prabhu Deva were born in Karnataka
'Annavru' Dr Rajkumar was born in Tamil Nadu
While we must fight for our rights, let us not get carried away.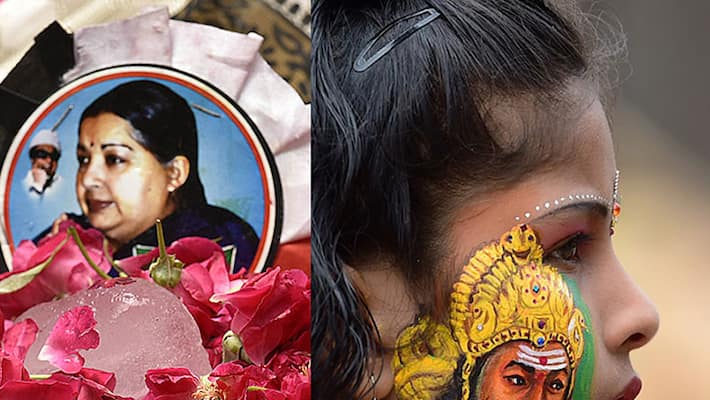 In these heated times, it becomes very easy for mobs, carried away with a criminal sense of self-righteousness, to immediately start playing the 'them' vs. 'us' game.
Perhaps this is why violent criminals vandalised Tamil Nadu number-plated vehicles in Karnataka and in Tamil Nadu, restaurants and shops which have a Kannadiga origin were attacked.
However, amidst all this angry rhetoric, it is very important to remember that though Karnataka and Tamil Nadu might be at logger's heads over to the Cauvery issue, the two states share more than casual acquaintances.
To start with, there is 'Amma', the current reigning political supremo of Tamil Nadu. Indeed, rather famously, Tamil Nadu Chief Minister Jayalalithaa was born in Karnataka.
She was born on February 24, 1948, at Melukote, in Pandavapura taluk in Mandya district to Jayaram and Vedavalli in a Tamil Iyengar Brahmin family.
Her name is derived from the names of the two houses she resided in Mysore - one was 'Jaya Vilas' and the other was 'Lalitha Vilas'.
The other great icon of Tamil Nadu - Superstar Thalaiva Rajinikanth also has his roots in Karnataka. He was born as Shivaji Rao Gaikwad on December 12, 1950, in a Marathi family to Ramabai, a housewife, and Ramoji Rao Gaekwad, a police constable, in Bangalore, Mysore State (present day Karnataka). He studied in Bengaluru and also has worked as a bus conductor in the city, before becoming a star in Tamil Nadu.
Even everyone's favourite dance master - Prabhu Deva - has a deep Karnataka connection.
Prabhu Deva's mother, Mahadevamma, hailed from Doora village, about 17 kilometres from Mysuru district. Even to this day, he owns property in Doora, and has developed a farm there. Recently he bought a house for his parents in Mysuru.
Least any one imagines this flow is one-sided; Kannadigas should recall that our greatest cinematic and cultural icon in modern times, the great thespian 'Annavru' Dr Rajkumar, hailed from Tamil Nadu.
Singanalluru Puttaswamayya Muthuraju, a.k.a 'Annavru', was born in 1929 in Gajanur. As his name suggests, his parents originally hailed from Singanalluru, also in Tamil Nadu.
His children too, carry on this connection in a professional sense. Not only have they all been educated in Ooty, his son Puneeth Rajkumar's wildly popular 'Kannadada Kotyadhipathi' show, for instance, was shot in studios in Chennai.
Even if we scan among the lesser cinematic titans, superb actors like Ramesh Arvind also hail from Tamil Nadu. Ramesh was born on September 10, 1964, in Kumbakonam, Tamil Nadu. He considers K Balachander as his film guru and has even directed a movie for Kamal Hassan – Uttama Villan.
Of course, this connection did not stop Dr Rajkumar from being a spearhead for Kannada cultural revival in the 1980s. Be it through his songs or words, he remains central to most 'Kannada pride' moments in modern history.
Similarly, CM Jayalalithaa, often hailed by some of her more enthusiastic supporters as the saviour of the Tamils, has fought long and hard for what she believes are the rights of Tamil Nadu.
In the end, we all wish justice to be done with equal fairness to all. And Karnataka must take the decision that is will ensure basic water rights to its citizens.
However, at such times, let us not get carried away in our agitations.
As Chief Minister Siddaramaiah said after the violence in Bengaluru on September 12 - "We must not forget the sense of humanity within us that connects us all,"
Last Updated Mar 31, 2018, 7:07 PM IST