Money laundering is Karnataka's fastest-growing industry post-demonetisation
Karnataka accounts for around 20% of the ₹3,500 crore worth of cash and wealth seized so far across India.
70% of cash seized in Karnataka allegedly comes from other states.
Nearly 30% of cooperative banks in the state haven't submitted transaction details.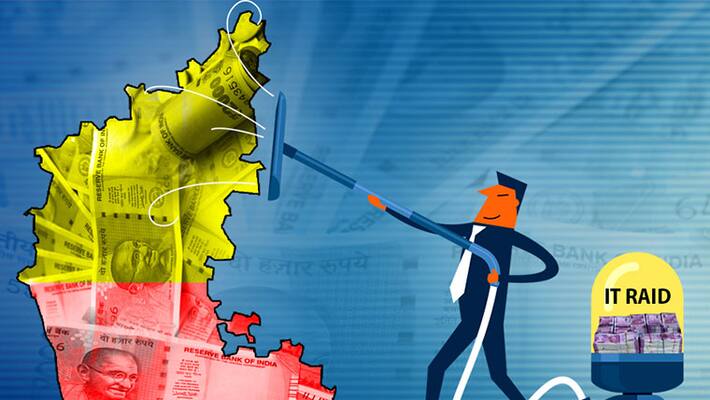 While Bengaluru is smug about its reputation as the IT capital of India, Karnataka seems determined to emerge as another, shadier, hub: of money laundering. Raids and investigations launched post-demonetisation have strengthened suspicions that tax defaulters from other states are making merry in Karnataka.
More than ₹3,500 crore worth of cash and valuables have been seized in raids across the country till the last week of December. Karnataka accounts for nearly 20% of these seizures; a recent report in the Times of India stated that nearly 70% of the cash found in these seizures came from the RBI currency chests of other states. The seized currency has been traced to currency chests based in Chennai, Hyderabad, Vijayawada, Ahmedabad, Surat and other cities. Of nearly 60 cases referred to the Enforcement Directorate, 26 are from Karnataka.
Officials believe defaulters based in Gujarat, Goa, Tamil Nadu and Andhra Pradesh have focused on Karnataka. As an example, G Janardhana Reddy, of the ostentatious Reddy wedding fame, is alleged to have routed nearly ₹100 crore from AP to Bengaluru. Income tax officials suspect that money laundering has flourished in Karnataka due to the collusion of police officials and bankers.
Here is a look at some methods adopted to launder money in Karnataka:
 
Create and cancel DDs: Asianet Newsable had reported earlier this month that defaulters are adopting the demand draft (DD) method to convert demonetised notes by issuing DDs and then cancelling and encashing them.
The benami depositor: Some defaulters are adopting the "benami depositor" route. People are hired by defaulters and provided falsified documents to create new bank accounts. These depositors are provided less than ₹50,000 in demonetised notes to deposit in the new accounts.
Cooperative banks: A recent report in The Hindu found that 80 out of the 285 cooperative banks in the state haven't filed reports of high-value transactions (₹10 lakh and more in value). Officials noted increases in the number of fixed deposits, clearance of arrears to government agencies and investments in postal deposits in cooperative banks.
Last Updated Mar 31, 2018, 6:35 PM IST