Minister Mani's statement lands Pinarayi Vijayan govt. in soup
RSS is playing behind Sub collector Sriram Venkitaraman: MM Mani
Chief Minister should consider whether he should keep Mani in the cabinet: Ramesh Chennithala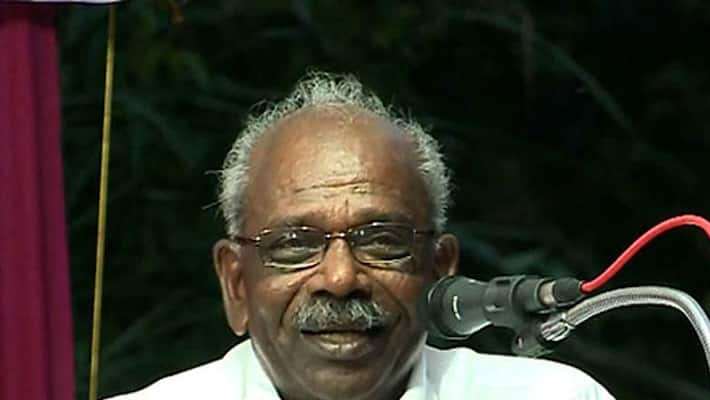 Taking cue from Chief Minister Pinarayi Vijayan who publicly reprimanded Idukki collector and Devikulam sub-collector for leading a crackdown on illegal encroachments, Power Minister MM Mani insulted the sub-collector and blamed the RSS for playing behind the curtain.
 
Related: Munnar eviction drive: CM reprimands collector for demolishing cross
 
"The Sub-collector (Sriram Venkitaraman) should be sent to Oolampara (a mental hospital in Thiruvananthapuram)," MM Mani said at a public function in Idukki on Saturday. The minister also compared the removal of cross from the land encroached by a prayer group at Pappathichola in Idukki to the demolition of Babri Masjid. "RSS is behind the sub collector," Mani said.
 
Related: 'It's hooliganism in Munnar': CPM slams eviction drive in hill station
 
The public rebuke by the minister has put the Left Democratic Front (LDF) government, especially the CPM, in an embarrassing situation with the opposition as well as the LDF partner CPI and social media strongly condemning it.
 
Related: Munnar stares at grave human-made disaster: Union Minister's report
 
"Those who think that they are empowered to say anything and can get away with it would find their place in the dumping yard of history," said CPI national executive member Pannyan Raveendran, referring to Mani's statement.
The minister has violated the oath of office by publicly threatening and insulting IAS officers, said Ramesh Chennithala, leader of Opposition. The Chief Minister should seriously think whether such a minister should remain in his cabinet, he added.   
"Kerala has never seen a minister like this," said senior Congress leader and former KPCC president VM Sudheeran. "Minister MM Mani has crossed all limits. The minister who made the insulting statement against Devikulam sub collector is an insult to the ministry and the people of Kerala,"he added.
Minister MM Mani has crossed all limits: VM Sudheeran
The Chief Minister told officials earlier that they should take approval from Mani before embarking on eviction drive in Munnar in the coming days. This shows that the CPM leadership and Chief Minister are with the land mafia in Munnar, Sudheeran felt.
BJP state president Kummanam Rajashekharan was happy that the minister called the sub collector an RSS man. "It is a compliment to the organisation. The minister has admitted that those who stand against injustice and for goodness belong to the RSS," he said. 
 Wait, soon Mani would tell you that RSS is ruling Kerala: Shobha Surendran,BJP
"Wait, soon Mani would tell you that RSS is ruling Kerala," BJP national executive member Shobha Surendran took a jibe at the minister.
Mani's statement has left the CPM leadership red faced. The Minister's insensitive comment has further put the party and Chief Minister Pinarayi Vijayan in a difficult position, just two days before the next assembly session. 
Last Updated Mar 31, 2018, 6:49 PM IST