Migrant labourer paints a 'new world,' mostly in black and white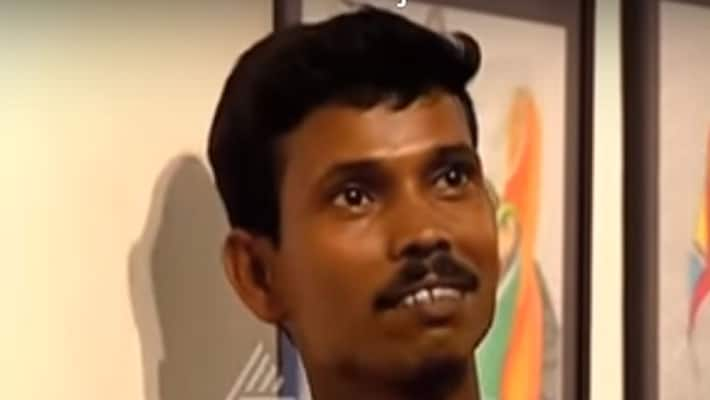 Sanchit Mandal is not a cliché artist you meet at art exhibitions. A worker who left his Kolkata home for Kerala to make both ends meet, Mandal saved time for art after back-breaking work. 
He who works with his hands, head and heart is an artist, Francis Assisi famously said and it comes right in the case of Mandal. He had no cozy studio or the comfort of home to complete his paintings.  Perfected during the days of hunger and penury, his works speak a thousand words, not of pain but peace that Mandal calls Nothul Bhuvan. It means a 'new world,' the world where everything is serene. 

My favourite colours are black and white; both are intense: Sanchit Mandal, painter
"My favourite colours are black and white; both are intense. White depicts peace while the black represents grief," Mandal says.  
The humble artist draws his themes from the surroundings, and his works are mostly about man and environment and pollution. Though he realized his potential as an artist in Kerala, Mandal's paintings are done in the backdrop of his homeland.

what does he plan with the money he earns by selling his paintings? "I have to buy medicines for my ailing mother," says Mandal. 
It was his friends in Kozhikode who recognized the artist in Mandal and encouraged him to paint more. Nothul Bhuvan is the second exhibition in Kozhikode the first one named Ente Manas (My mind) was held some time back.
Last Updated Mar 31, 2018, 6:45 PM IST