Menstruating women forced to sleep outdoors in this Karnataka village
The Golla community in Karnataka keep their women outdoors while menstruating
Ironically the government is fostering this practice by building separate rooms for these girls to sleep in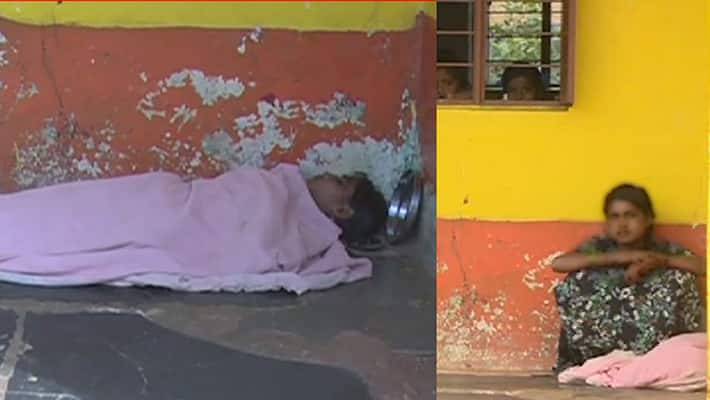 On the one hand our country is advancing and becoming increasingly modern and sophisticated. But, the same cannot be said for the mindset when it comes to superstitions. These superstitious beliefs still remain as the shackles that bring us back into the middle ages. When it comes to women and their empowerment this is still the story.
While in many villages and cities across the country, campaigns have been conducted to inform people of the illogical practice. There still exists some gaps in communication. Here, in this village in Karnataka, the women are still made to feel as outcasts when it comes to menstruation.  Even today women in many communities, particularly the Golla community, stay outside the house during their menstrual period. The irony is that it is the state government that has provided 'Krishna Kuteeras' in many villages exclusively for Golla community women to spend the days of their menstruation in.
But in Chitradurga, since Krishna Kuteeras are not constructed, the girls in many villages sleep alone in the corridors of the government schools. They sleep in unsecured places with their slippers as their pillows. The schools, institutions that create better informed citizens, are now shelters for those who are victims of these superstitious beliefs.
This is the scene in the school premises of Gunjiganuru Village, Holalkere Taluk, Chitradurga district. The people of the village believe that the God will curse them if they don't follow this ancient 'custom'.
Shwetha, a young student describes her plight, "Fearing God the parents and villagers don't allow us to stay inside the house. They make us sleep outside irrespective of whether we are young girls or aged women. There is no place for me to sleep in my house. Hence I'm sleeping here (School premises)". 
Many social activists and NGOs have urged the government to ban this superstitious practice (to send their women out during menstrual period) and have tried to create awareness in the Golla community against this evil practice. But still the superstition exists in many districts since decades.
Umashree, Minister of State for Women and Child Development, has also advocated for a stop to this practice, "Many people in Mysuru and Hassan are changing and giving up superstitions but the practice has not been erased completely. Some people are still clinging to old superstitions. We're trying to create awareness. Ban is not a solution for this; a gradual transformation should happen – a sudden ban will take away their confidence and hurt their religious feelings. We have tried to counsel them through the pontiffs and priests of their community. They must give up such superstitions for the welfare of their own girl child."
Last Updated Mar 31, 2018, 6:36 PM IST