'Media facing emergency like situation in Kerala'
Chief Minister and Home Department failed to solve the stand off between jounalists and lawyers: KPCC president
KM Mani the described the situation as 'emergency like'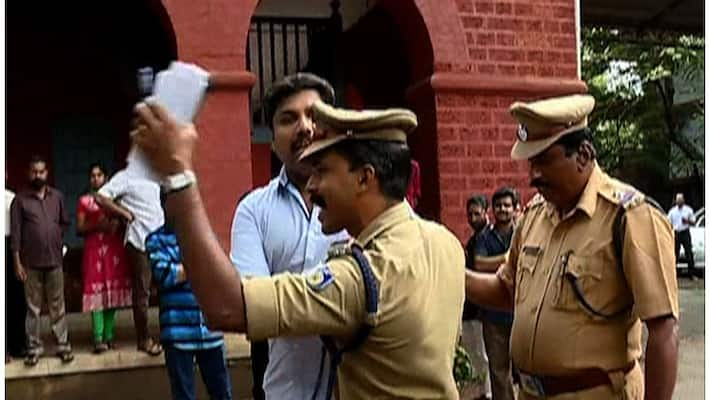 The Opposition has slammed the Left government in Kerala for its alleged inefficiency in lifting the 'ban on media' in the courts in state. Veteran Kerala Congress leader and former Finance Minister KM Mani went a step further and described the situation as 'emergency like' and urged the government to intervene immediately. He was referring to the curbs on media and attacks on scribes taking place in Kerala in the past few days.
 
Also read: Fresh trouble in Kozhikode: Journos detained again, SI suspended
Kerala Pradesh Congress Committee (KPCC) president V M Sudheeran said that the Chief Minister and Home Department failed in tackling the situation. Ban on media in courts should be immediately lifted. The government's complacency worsened the standoff between media persons and lawyers, he said referring to the detention of journalists who tried to enter court premises in Kozhikode on Saturday.
 
  Also read: Kerala High Court tense after lawyers, journos clash
 
Police men had assaulted media persons and detained four journalists, including Asianet News scribes, at Kozhikode on Saturday. After the incident was widely condemned, the government suspended a Police Sub Inspector on Sunday.
 
Also read: Kerala Lawyers go berserk again: many injured in violence, media vehicles attacked
 
Reacting to a series of incidents, Mani said that the media in the state was gagged as if during the emergency period. "The police detention of media persons in police station can never be justified. The home ministry failed in handling the issue," Mani said. 
Also read:  Lawyers on rampage: Eminent advocates face action for condemning violence
Meanwhile, it has been revealed that the police blocked the media persons from entering court premises on Saturday as per the direction by district government pleader and public prosecutor K Aalikoya who acted on orders of district judge. But the district judge clarified in his report to the Kerala High Court registrar that he had not ordered for putting curbs on media but had directed the police to take steps to avoid unruly incidents.
 

An undeclared ban on the press is in place in the courts in the state for over a week now after a clash between media persons and lawyers at Kerala High Court on 20 July. Journalists came under attack perpetrated by lawyers at Thiruvananthapuram the day after. Media rooms at High Court and district courts were closed down and journalists were banned from entering court premises.  
Last Updated Mar 31, 2018, 6:52 PM IST