People of Munnar know how to deal with those who come to evict them from their land: MM Mani
Police looked on as CPM activists manhandled Revenue officials.
Revenue Minister demanded action against cops who failed to protect Revenue team.
The controversies surrounding Munnar land grab and the efforts of the Revenue Department to recover public land from encroachements have once again frayed nerves in the Left Democratic Front (LDF) Governments. Ministers and leaders of CPM and CPI, the main constituents of the LDF, have come out in the open against each other.
 
The immediate provocation was the manhandling of Revenue officials headed by Devikulam Subcollector Sreeram Venkitaraman by a group of CPM workers when they reached a plot to demolish a shed illegally built in public land. Even after the Subcollecter demanded the arrest of the CPM workers who manhandled the Revenue Officials, the police remained moot spectators. 
 
Upset by the incident, Revenue Minister E Chandrashekharan rang up the Chief Minister's office and demanded action against the police officials who failed to act. The minister also directed Idukki district collector to take action against the CPM workers using his powers as district magistrate. After the sharp reaction from the Minister, Subcollector and revenue officials, the CPM activists was forced to remove the shed erected in the land encroached.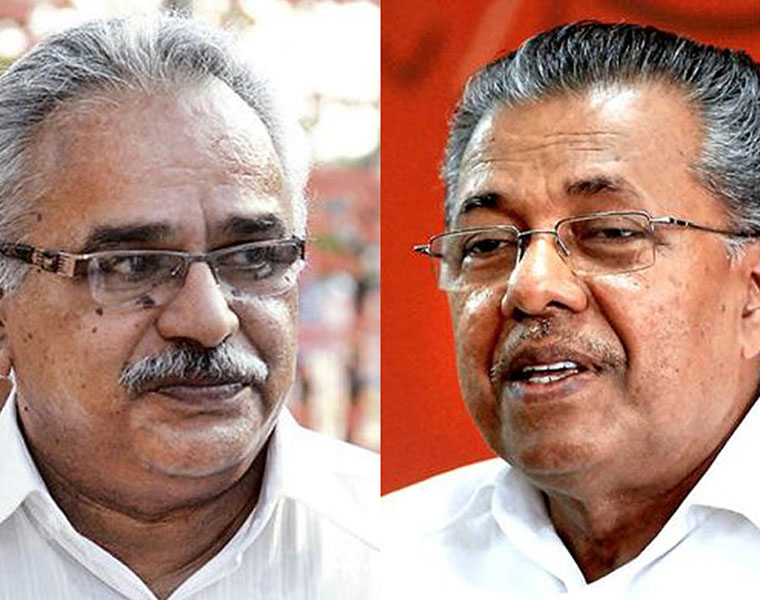 Kanam Rajendran, Pinarayi Vijayan
Power Minister MM Mani, who is a staunch critic of Munnar operation against land grab, warned against media and revenue officials. Some media persons are trying to destroy the tourism industry in Munnar, the minister said. "People of Munnar know how to deal with such people," he said. A few officials are trying to evict people from the land occupied them for centuries. "They may not go back from Munnar as they came here," he warned. He also took potshots at the CPI. 
 
Meanwhile, the CPM central committee member EP Jayarajan openly criticised the CPI and its state secretary Kanam Rajendran. 

BJP state president Kummnam Rajashekharan demanded the government to give full protection to the Revenue officials who are engaged in evictions in Munnar. 
 
As both Communist parties head for another showdown on over Munnar, the CPI state committee will meet at Thiruvananthapuram on Thursday. The meeting is likely to come with a statement on Munnar.