Mandya: 'Treated as servant' Techie commits suicide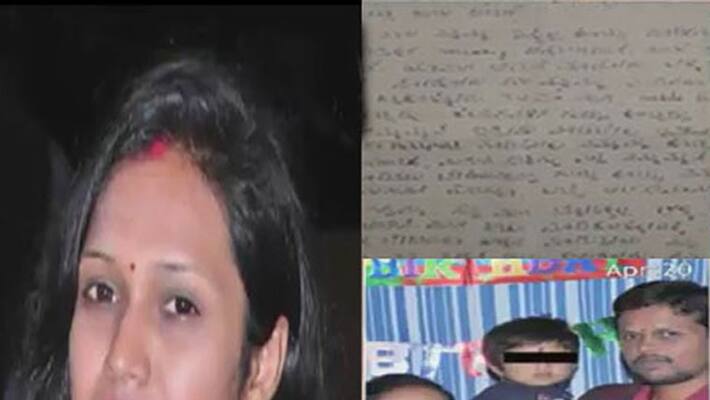 Supraja, an engineering graduate had married her husband after falling in love with him in 2011. The couple have a three-year-old son. However, the suicide note left behind her narrates a story of constant abuse and mistreatment, which eventually forced to take the extreme step.
Based on her six-page death note, the police have arrested her husband Prathap and mother-in law Sharmila and have registered a case of dowry harassment. "They used all the money I earned and treated me as a servant," she starts her death note.
"The Mother and son were after my money. They were not satisfied with anything. Every article in the house including buckets, bed, bed sheet, towel, jug and vessels were brought by the money I earned," she wrote.
Mentioning her husband, she says, "You used my credit card to buy car, bike, TV and music set. But your mother did not allow me to use them even for a day. The kitchen was renovated with the personal loan acquired in my name. All the household things have been purchased on a loan from my credit card. It is impossible to repay the huge amount of loans."
Expressing her concern towards their son, she said, "I have had enough. I do not want my son to suffer. I know for sure you will treat him as a servant too. I am taking my son with me."
Supraja has also blamed her sister-in-law for ill-treating her. "Your sister might be a doctor but her pads had to be cleaned by me. Being a doctor, she has treated me badly when I was pregnant. She too supported her mother and made me work just after my delivery."
While speaking about her mother-in-law, Supraja writes, "I could not even run the mixer grinder when she was watching TV. She fought with me for every trivial thing."
Supraja has blamed her husband and his family that they did not allow her to visit her parents. Apologising to her friend Shrikanth, who had lent her laptop to help her pursue MTech through correspondence, she wrote, "Do not leave the laptop in that house, Please take it back as soon as you get the news of my death."
She ended her letter with a thank you note to all who helped her, she requested her parents, "After my death, please take me out of the house as soon as possible. Please do not keep my body there even for a minute. Do not entertain them at home."
Last Updated Mar 31, 2018, 6:38 PM IST