Parents braze brigades to get Muslim boy and Hindu girl married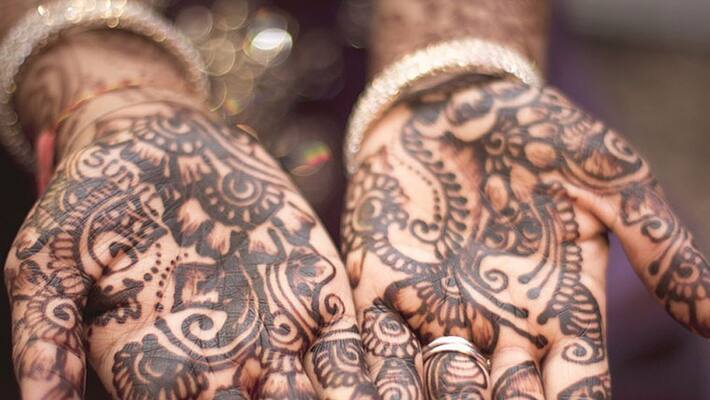 Childhood friends Ashita and Shakeel fell in love while in college. They decided to take their relationship to the next level after getting their respective MBA degrees. The families were initially shocked but then reluctantly agreed.
Ashita agreed to convert to Islam and she took up her new name as Shahista Sultana. "From now, I will celebrate both Ramnavami and Ramzan. I remain a Hindu in my father's house but am a Muslim at my husband's house. Is there a law to prevent such adaptations?" she asks.
"We have agreed on a formula - to practice Islam while I am with him and Hinduism while I am with my parents. I don't mind wearing burqa if I need to. Since I am going to their house as a daughter-in-law they have been training me in their customs and traditions," she adds.
While the progressive groups and feminist organisations have supported Ashita's wedding with Shakeel, Hindu activists have condemned the alliance. KS Vimala, State President of Janavadi Mahila Sanghatan arrived at Mandya from Bengaluru and gave moral support to Ashita and her parents. Other social acitivists have also visited Ashita's house and extended their support to the family.
Dr Krishnamurti, a Hindu leader from Mysore district, came to Ashita's house on Tuesday night and tried to convince her parents to cancel the marriage. The parents refused to listen to Krishnamurti's 'advice'. Leaders of Sri Ram Sena, Bhajrang Dal, RSS, VHP have also spoken to Ashita's father. But here again, the dialogue was not fruitful.
Despite all these 'misgivings' both families have decided to go on with the wedding. Ashita and Shakeel look confident and are determined to start a new life together, with the blessings of their parents, come what may!
Last Updated Mar 31, 2018, 6:38 PM IST